Archangel Protocol
Reviews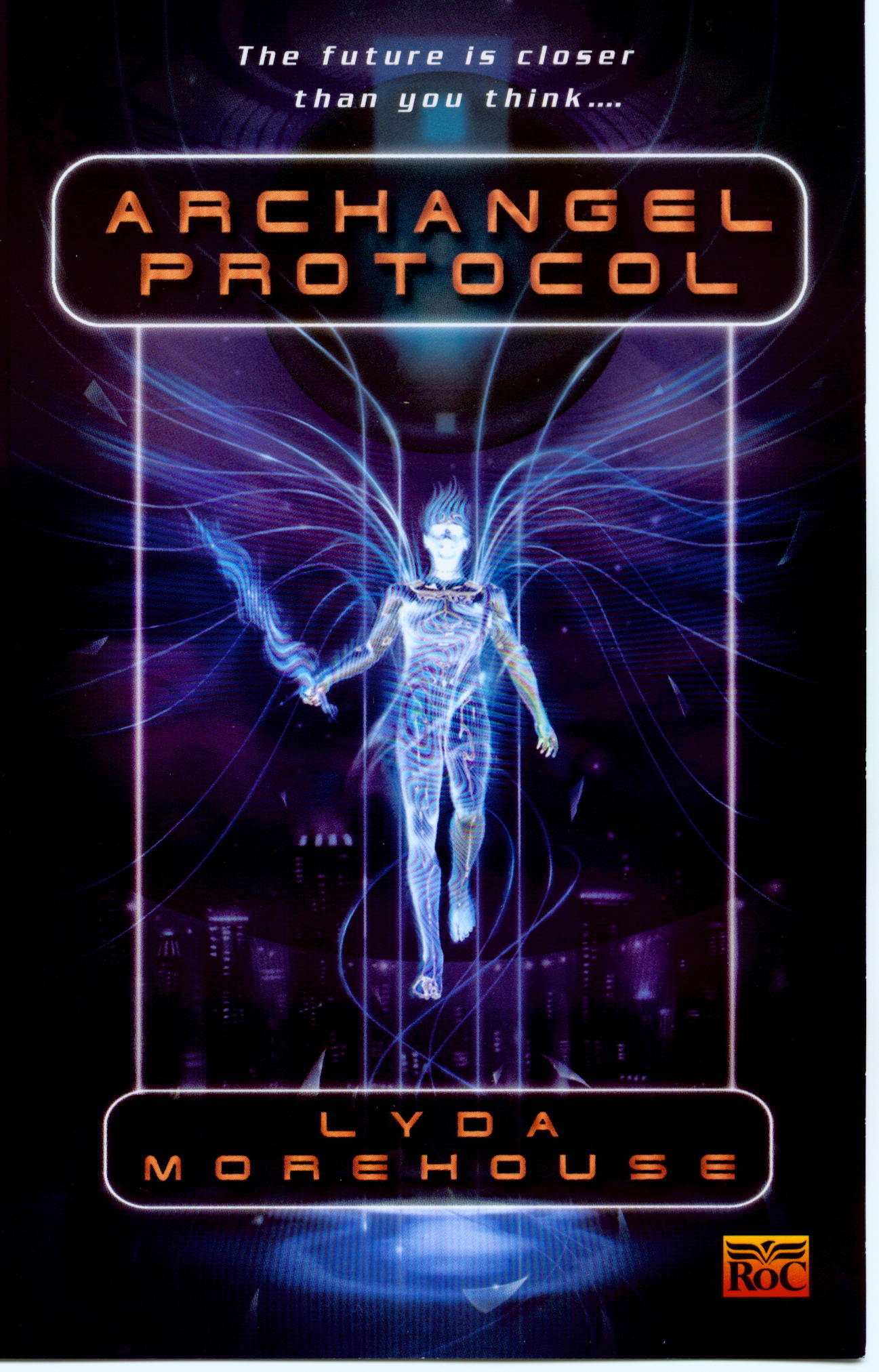 First the LINK--an interactive, implanted computer--transformed society. Then came the angels--cybernetic manifestations that claimed to be the working of God's will....
But Deidre McMannus has had her LINK implant removed--for a crime she didn't commit. And she has never believed in the angels. All that will change when a man named Michael appears at her door and gives Deidre the chance to right the wrongs that have been done to her--and to the entire world....
ISBN: 0-451-45827-3
PUBLISHER: Roc, an imprint of Penguin Putnam
PRICE: $6.99 ($9.99 in Canada)
Featured Review:
Romantic Times: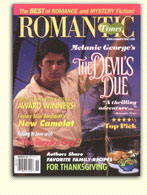 A Romantic Times REVIEWER'S CHOICE AWARD FINALIST
Kelly Rae Cooper Reviewed Archangel Protocol in the November 2001 issue of Romantic Times!
She said: "Lyda Morehouse has written a little gem readers might have overlooked. In a near future, Deidre McMannus is an ex-cop, forcibly unplugged from the interactive LINK for allegedly consorting with a criminal... There's something about Michael, and his friends, Raphael, Ariel and Morningstar tha convince Catholic Deidre she just might be in over her faith! (4 and 1/2 stars). A brilliant first novel with fast-pasced action, vivid characters and flawless execution. Ms. Morehouse serves up a futuristic thrill with a twist."
Reviews in Alphabetical Order
(by magazine or site title):
Alien Online by Vegar Holmen:
A smashing review! Vegar says, among other things, "...This is another triumph for novels that cross the genre boundaries; it starts off as a dectective novel set in the future and moves forward touching on science fiction, theology, and romance." Check it out!
Compulsive Reader by Carole McDonnell
"Like Margaret Atwood's minor classic, The Handmaid's Tale, it succeeds by mining in and trafficking in the worst-case-scenario vision of a world ruled by fundamentalists. In addition, the heroine is tough in that hard-boiled predictable way of the feminist cyberpunk heroine."
Essence of Romance:
Liz Zink says this: "Archangel Protocol is an absorbing read, so much so that after I finished it, I drove to the bookstore and bought its sequel, Fallen Host. I normally avoid books and movies with extremely strong religious components - I had an intensely negative reaction to the new movie Signs precisely because of the religious aspect. But Lyda Morehouse has set up her world so well that I fell right inside and was hooked." Read the whole review here.
Explorations:
Paul Goat Allen of the Barnes and Noble Booksellers Magazine "Explorations: The Best in Science Fiction, Fantasy and Graphic Novels (April/May 2001)
"Newcomer Lyda Morehouse creates a not-too-distant future Earth where the lines between technology, politics, and religion are blurring at the edges. ...Morehouse's highly descriptive version of 2075 Earth is almost as interesting as the novel's plot. A great first novel!"
Emerald City:
The April 2002 (#80) issue of Emerald City has a great review of Archangel Protocol called Angels with Many Faces
GLBT Fantasy Fiction Resources by Finder
"An engaging futuristic adventure story, narrated by a hard-hitting detective on the trail of a religious mystery."
LOCUS:
Archangel Protocol was reviewed in the Short Reviews by Carolyn Cushman in the April 2001 Locus
She had this to say: "...[Morehouse's] world is intriguing, and there are enough surprises to keep things moving, and the mix of SF and religion works surprisingly well. An impressive first novel."
Midwest Muse:
In Volume XVII, Issue 5, May 2001, Heidi Skarie wrote a "Book Buddy Review"
"If you're looking for something original, fun, and intelligent that will sweep you into another world, read Archangel Protocol."
MISFITS:
Ishmael Williams and Kate Brady reviewed Archangel Protocol for the MISFITS site.
Philosopher's Stone:
Andrew Zimmerman reviews Archangel Protocol on his site.
Spicy Green Iguana (Hypatia's Hoard):
Elizabeth Barrette reviewed Archangel Protocol in Feburay of 2002
"A number of unique and intriguing features make this stand out form the usual run of the romance an cyberpunk stories. The angels (real and fake) are throroughly researched, whimsical yet plausible, a satisfying blend of traditional and original."
Science Fiction Chronicle:
Don D'Ammassa said "An unusually effective conspiracy story that sounds like cyberpunk but isn't. The story is often chillng, always suspenseful, and with a likable protagonist."
SFRA Review:
This from: Michael Levy, SFRA Review: Newsletter of the Science Fiction Research Association--
"Morehouse's well-done first novel combines traditional cyberpunk and hard-boiled detective elements with a bit of romance, a dash of parody, and some truly whacked out theology to create an entertaining science-fiction adventure. Deidre McMannus is a disgraced former cop now scratching out a life on the fringes of society as a private eye. She lives in a world where virtually everyone is LINKed, tied into a late twenty-first century equivalent of the WWW, through wetware installed in their skulls. Most of the world's major nations, including the U.S., are theocracies, and the use of the LINK is limited to people who are members of an established church. This religious revival came about after angels began to appear on the LINK and proclaim God's message. Sometime later, Daniel Fitzpatrick, Diedre's partner in the NYPD, for reasons unknown even to himself, went crazy while on duty and assissinated the Pope who was visiting New York. Deirde, caught in the backwash from that crime, soon found herself excommunicated from the Catholic Church and exiled from the LINK. Now she has been recruited by Michael Angelucci, a strangely charismatic NYPD officer who wants her to help him discredit the LINK-angels. The problem is, though, that much of the evidence implies that the LINK-angels may indeed be the real thing and that Lieutenant Angelucci may not be entirely human either. Archangel Protocol features a variety of lovely little touches. When McMannus gets really depressed she reaches into the bottom drawer of her desk, not for the traditional bottle of whiskey, but for a bent up romance novel. She has a series of run ins with a rather terrifying mafia type named Morningstar and eventually discovers that some of her most valuable allies are Hassidic terrorists. And then there's the rather odd sex scene in the belfry.... This is an excellent first novel from a writer who's definitely worth keeping an eye on."
This review was reprinted with the express permission of its author.
SFReviews.Net:
SFReviews.Net had this (among other things) to say:
"One element of the book has a particular post-9/11 creepiness: the Bronx has been leveled by a massive bomb, and Morehouse refers to the area as "ground zero." Coupled with the religious thrust of the story, Archangel Protocol has an undeniable relevance now that it didn't upon its release four months before the attack. "
SF Site:
Lisa Du Mond reviewed Archangel Protocol for SF Site
"What Morehouse has created for us is an instant classic of SF. McMannus is one of the strongest, most complex investigators in a long, long time. The rest of the characters are vividly drawn, fascinating beings. The technology seems so tantalisingly close -- frightening possible. The image of a future society and government is chilling. The combination is miraculous; one of the best novels in memory."
Strange Horizons:
S. N. Arly wrote a great review entitled "Dueling Daemons: Lyda Morehouse's Archangel Protocol" for Strange Horizons in Septemeber of 2001
Whistling Shade:
Joel Van Valin wrote a very in-depth and thoughtful article/review of Archangel Protocol called: "Archangel Protocol Brings Angels to Cyberland"
Writers Write: The Internet Writing Journal:
The October-November issue of Writer's Write had a great review of Archangel Protocol
"Lyda Morehouse is a major new talent who has taken the cyberpunk subgenre and transformed it into something else entirely."