My short story "God Box" appears this Biblical Horror Anthology (which is available at Amazon.com.
SKY TINTED WATERS
My short story "Tutivillus" is "reprinted" in this wonderful anthology by Michael Mirriam (which is available through Sam's Dot Publishing or as a Kindle version. (You can read an excerpt here.) The Amazon description about this August 2012 release says:
With Sky-Tinted Waters, award winning small-press publisher Sam's Dot Publishing and the 350+ member strong Minnesota Speculative Fiction Writers follow up their successful Northern Lights: 20 MinnSpec Tales anthology with twenty new tales certain to thrill, entertain, and illuminate. Within these pages the reader will find exciting fantasy, horror, and science fiction stories featuring:
--rampaging steam-powered constructs
--bio-engineered killer squirrels
--military serums filled with nanotech
--demon who pounces on mispronounced words
--invisible flying pony
--the two worst friends in the world at the edge of space
And fourteen more tales of adventure, enchantment, humor, terror, magic and science gone wrong, the unexplained, and the unanticipated by twenty author ranging from debut talents to established professionals in the field of speculative fiction.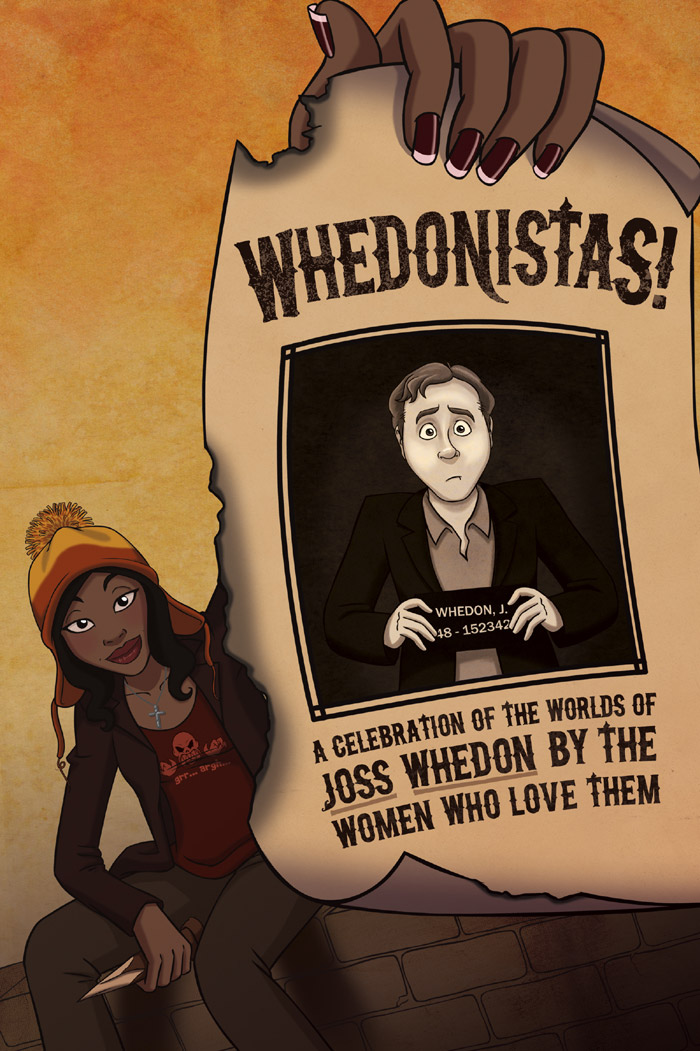 WHEDONISTAS! A CELEBRATION OF THE WORLDS OF JOSS WHEDON BY THE WOMEN WHO LOVE THEM
I have a non-fiction piece called "Romancing the Vampire and Other Shiny Bits" in the anthology WHEDONISTAS! (Mad Norwegian Press, March 2011) edited by Lynne Thomas and Deborah Stanish. I share the glory with a number of other awesome writers such as Sharon Shinn, Emma Bull, Elizabeth Bear, Catherynne M. valente, Sarah Monette, and several others. I will confess that non-fiction is not my forte, but I suspect that if you're a fan of any of Whedon's projects like "Firefly," "Buffy" or "Doctor Horrible's Sing-Along Blog" you'll find plenty to enjoy. You can check them out on Amazon.com. In other fun news WHEDONISTAS! and RESURRECTION CODE share the same pub date (March 15, 2011).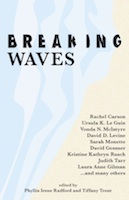 BREAKING WAVES: AN ANTHOLOGY FOR GULF RELIEF
Fight Oil with Ink!
I donated a "hopeful post-apocalypse" story to BREAKING WAVES: AN ANTHOLOGY FOR GULF RELIEF which is available for download in a multitude of e-book formats from Book View Press. 100% of the proceeds from this book will be donated to help victims (human and animal) of the BP disaster. I'm honored to be among authors Ursula K. LeGuine, David D. Levine, Laura Anne Gilman, and many, many such luminaries in the field of science fiction/fantasy.
My contribution is a reprint of "Indigo Bunting" a coming of age story in a recovering post-nuclear winter Yellowstone National Park. This story was originally printed on-line at Blythe House Quarterly Volume 11, Number 1 : Winter 2007, guest edited by Lori L. Lake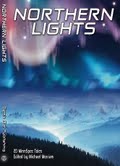 NORTHERN LIGHTS: 20 MINNSPEC TALES
The only brand-new original, never before seen short story of mine, "Bright, Bright City Lights" appears in an anthology of Minnesota writers called NORTHERN LIGHTS: 20 MINNSPEC TALES. It's now available at Genre Mall (Sam's Dot Publishing.)
"Bright, Bright City Lights" is my attempt to deal with the death of Senator Paul Wellstone through fiction... and magic.
Other authors contributing are: Jaye Lawrence, Catherine Lundoff, Haddayr Copley-Woods, Jason D. Wittman, David Steffen, Kelly Barnhill, Damian Sheridan,R. Scott McCoy, Terry Faust, Carrie Devall, Michael Merriam, Patrick Sullivan, Roy C. Booth, Britt Aamodt, Sharon Hanson, Joel Arnold, Abra Staffin-Wiebe, Maggie Della Rocca and Hilary Moon Murphy.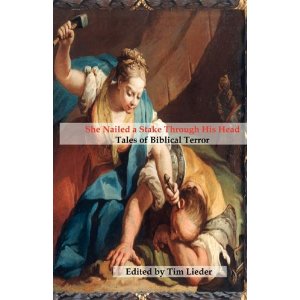 SHE NAILED THE STAKE THROUGH HIS HEAD: TALES OF BIBLICAL HORROR
"SHE NAILED THE STAKE THROUGH HIS HEAD: TALES OF BIBLICAL HORROR," which is being published by Dybbuk Press (editor Tim Lieder) accepted "Jawbone of an Ass." "Jawbone" is not an AngeLINK story per se, but it is one of my religious exploration ones.
Even though it claims not to be out until October, you can order the anthology through Amazon at http://www.amazon.com/She-Nailed-Stake-Through-Head/dp/0976654679/. There's also a Kindle version: http://www.amazon.com/Nailed-Stake-Through-Head-ebook/dp/B003R7LA48/.
Other authors included are Gerri Leen, Daniel Kaysen, Christi Krug, Catherynne Valente, Elissa Malcolm, Romie Stott, Stephen M. Wilson and D.K. Thompson.
The product description says: "Do you read the Bible for the sex? Did the story of Solomon threatening to cut the baby in half seem very messed up - but in a good way? Then this is the book for you. A prophet washes up on the shores of an hellish city. A doomed king speaks to the dead. A modern day Samson takes up arms against the British. These nine stories are full of drama, passion and divine exuberance."
TALES OF THE UNANTICIPATED #29 (2008)
My short story "The vanBuylen Effect" which I like to characterize as a time-travel story about a woman and her couch and the Easter Uprising of 1916 appears in Tales of the Unanticipated #29. Check it out. Order Several! After all, there are other fine authors represented in issue #29, including fellow Wyrdsmiths Eleanor Arnason and Naomi Kritzer.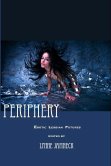 PERIPHERY: EROTIC LESBIAN FUTURES (2008)
Periphery, an anthology in which my short story "ishtartu" (about a sacred prositute and her struggle to regain her lost faith in the Goddess) appears, is now out from Lethe Press. If you're a completist fan of the AngeLINK series, you'll want to pick Periphery up. Though the characters aren't any you know, it takes place in the AngeLINK universe.
Featured in Periphery: Erotic Lesbian Futures are:
Marianne de Pierres, who takes you into a half-dream world of bliss Nicola Griffith and her moving exploration of art, genius, sex, trust, and how love can throw them all into chaos Gwyneth Jonesӳ intimate look at what freedom meansءnd what it takes Kristyn Dunnion, whose protagonistsҠcalls for liberation mean the monkey wrenching of a nightmarish capitalist system Lyda Morehouse and her eye-opening world where prostitution is beyond legalةtӳ sacred Kiera Dellacroixӳ probe into the very genes of humanity for what evolution may grant to a select few and the unexpected consequences of such gifts Melissa Scott and her time-bending story of love lost and love found Carolyn Ives Gilmanӳ delicate examination of the tenuous balance struck by freedom and love Elspeth Potter, whose mecha-clad soldiers battle and explore more than just forbidden alliances and even more!
Periphery: Erotic Lesbian Futures is a diverse collection thatӳ exhilarating in more ways than one! It takes you from this world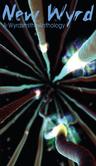 NEW WYRD: Wyrdsmith's Anthology II
My writer's group, Wyrdsmiths, published a numbered, limited edition chapbook. A previously unpublished short-story of mine called "Jawbone of An Ass" appears in it. This is not a AngeLINK story, but it does have a religious overtones. Here's a blurb: What would it be like to know that God is absolutely *not* on your side? Ԋawbone of an AssԠis a modern day retelling of the story of Sampsonӳ first wife (known only as the woman of Timor), who slowly comes to realize the horror of knowing she, through no fault of her own, is on the wrong side of the wrath of angels.
Order this anthology on-line through Dreamhaven Books!
Wyrdsmiths includes a number of published an unpublished authors. In alphbetical order, we are: Eleanor Arnason, William Henry, Doug Hulick, Naomi Kritzer, H. (Harry) Courreges LeBlanc, Kelly McCullough, Lyda Morehouse, Sean Michael Murphy, and Rosalind Nelson. As you can see, it's a fairly stellar cast, if we do say so ourselves!

TALES OF THE UNANTICIPATED #26 (2005)
A novella that fellow SF/F writer Naomi Kritzer and I co-wrote called "The Long Walk" appears in the current issue of TOTU.
"The Long Walk" is a story takes place in an alternate history Roman Briton and is about Lucien, a male prostitute addicted to a drug that keeps him from discovering his full magical potential.
TOTU is available for sale at: http://www.totu-ink.com/current.phtml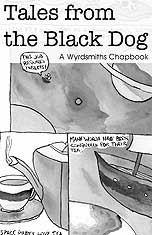 TALES FROM THE BLACK DOG: A Wyrdsmith's Anthology
My writer's group, Wyrdsmiths, published a numbered, limited edition chapbook. A previously unpublished short-story of mine called "Tutivillius" appears in it.
"Tutivillus" is not part of the AngeLINK series, but it is about demons. Tuti is a demon whose purpose it is to collect words mangled and/or missed during the recitation of Mass. Though I make a few ecumenical comments, this story is by far my most Catholic. Those of you familiar with the AngeLINK universe may appreciate the appearance of Lucifer in this story who is clearly, partially based on Morningstar.
Order this anthology on-line through Dreamhaven Books!

BEST OF DREAMS OF DECADENCE
My short story "Irish Blood" appears in the Roc anthology (March 2003)Best of Dreams of Decadence. You can still find copies available on Amazon.com. A note of interest: "Irish Blood" was the first piece of fiction that I sold professionally (or semi-professionally, anyway.) The point is, someone paid me for it. I got a whopping big check for $9.23 for "Irish Blood."
SALES PRE-2000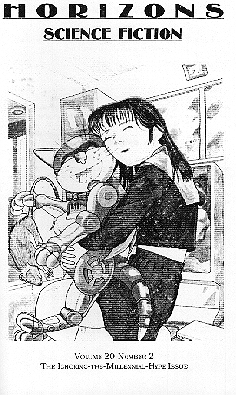 HORIZONS: SCIENCE FICTION
Autumn/Winter 1999, Horizons: Science Fiction "Maternal Leave"
"In a world obsessed with eugenics, what place has a mother's love? And who pays the price for interfering with nature?"
An experiment in style, this story is written in 2nd person, with all of the action directed at you, the reader. The opening lines read: "You never thought it would happen this way. As he casually unsnaps the quick-release on the holster holding the standard issue blaster, you know it's over. You're caught..." Read more!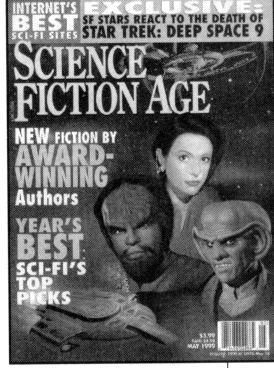 SCIENCE FICTION AGE
May 1999, Science Fiction Age, "Twelve Traditions"
An excerpt from the June 1999 LOCUS review by Mark R. Kelly, "Lyda Morehouse's Twelve Traditions is set on Alpha Three, a planet given over to addiction recovery programs. Sasha Danchenko is the local drug supplier, a shunned yet necessary member of the community. Sasha's presence is justified by an official who explains the planet's surprising dilemma: if the recovery programs work, the next generation will grow up healthy, and the planet's culture will not survive...." --LOCUS, Issue 461, Vol. 42, No. 6
This story made the honorary mention list of THE YEAR'S BEST SCIENCE FICTION: SEVENTEENTH ANNUAL COLLECTION edited by Gardner R. Dozois.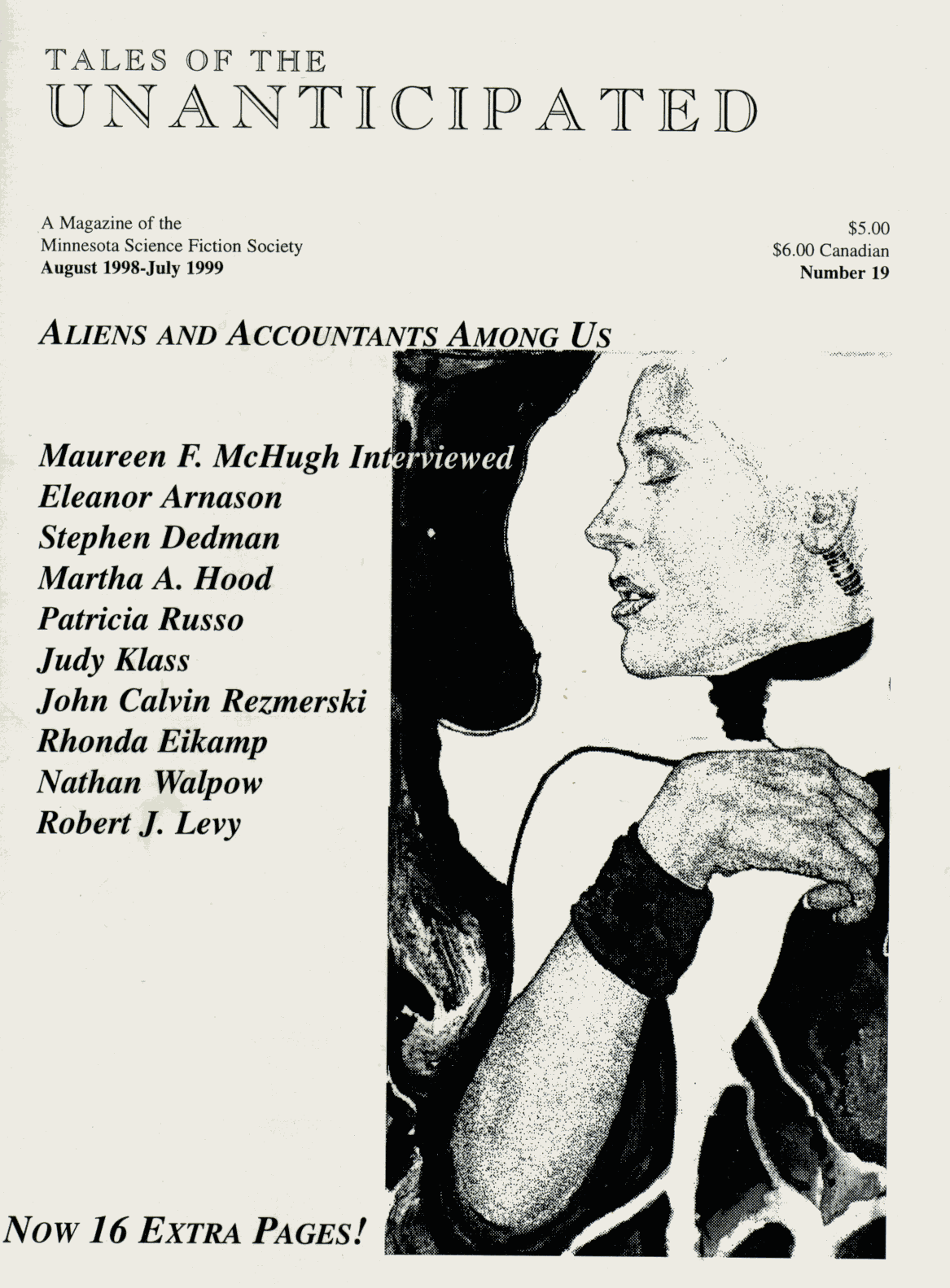 TALES OF THE UNANTICIPATED (1999)
August 1998-July 1999, Tales of the Unanticipated, "Everything in Its Place"
Everything In Its Place is the story of a disturbed young witch who accidentally conjures an uninvited guest.
This short story of mine made the honorary mention list in THE YEAR'S BEST SCIENCE FICTION: SIXTEENTH ANNUAL COLLECTION edited by Gardner R. Dozois. It's also I story I use when discussing the importance of always sending your stories to top-tier markets first. I sent this story ONLY to TOTU, and when I saw it listed in Year's Best it made me wonder, well, would Gardner, who was editing Asimov's at the time, have liked to buy it? I'll never know.