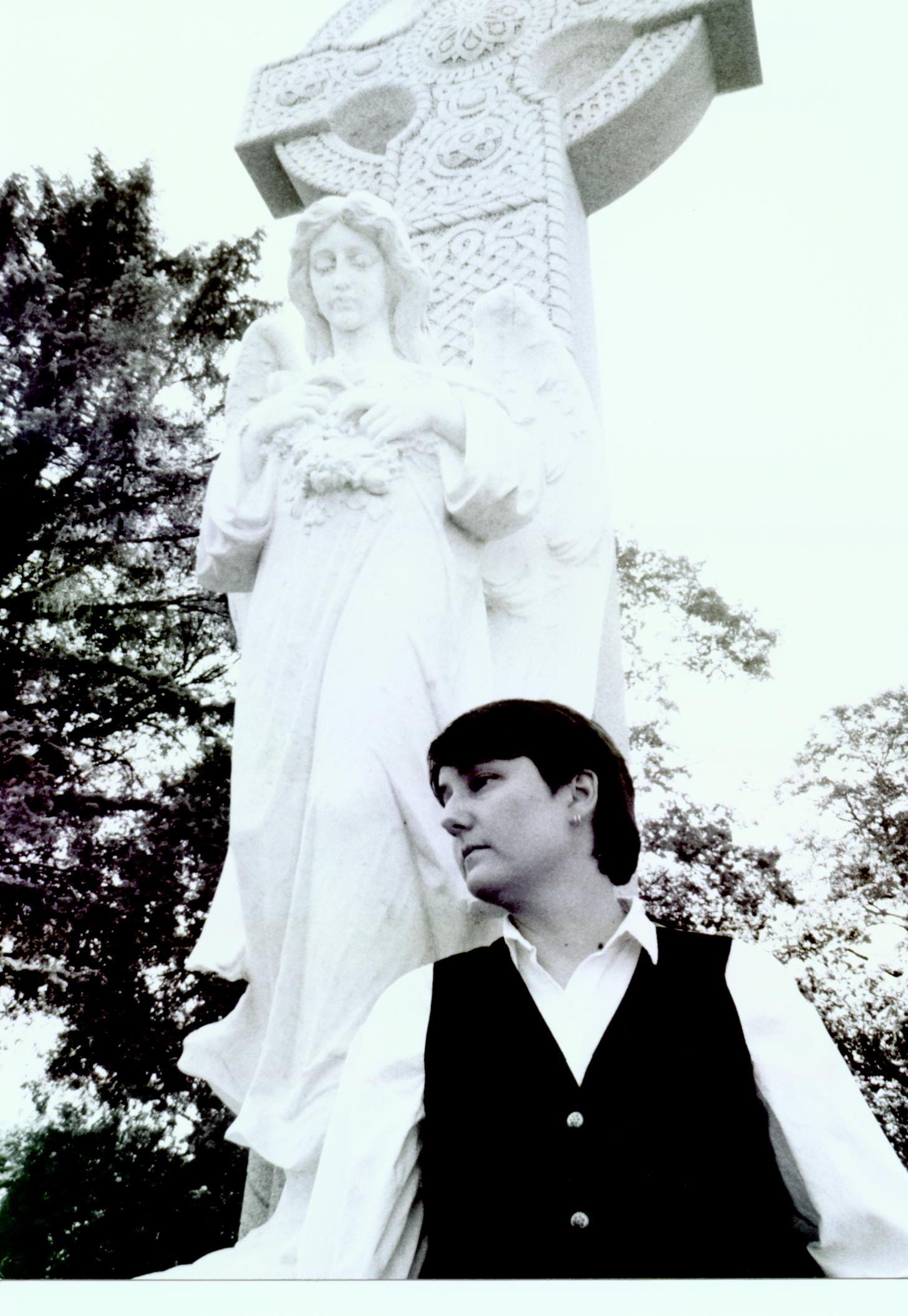 Lyda (pronounced LIE-duh) Morehouse was born in California in 1967. Her parents went out to California for the "Summer of Love," but missed San Francisco and ended up in Sacramento. Possibly the reason that Lyda never shied away from political topics in her writing has to do with the fact that her mother "door-knocked" against Ronald Reagan in his (ultimately successful) bid to be California governor. Luckily, her folks came to their senses after only a few months under the California sun, and moved to LaCrosse, WI. Lyda spent her formative years in that magical town where three rivers meet, nestled in the valleys of the "driftless zone."
She moved to the Twin Cities in 1985 to attend Augsburg College, (not, unfortunately Oxford, which so many of her friends misheard "Augsburg" as.) While the college didn't particularly impress her, the Cities did, and she settled permanently there when she and Shawn Rounds bought a house in Saint Paul in 1997. Minneapolis/St. Paul is a haven for writers, especially science fiction writers, and Lyda would recommend it--winters and all--to anyone, anywhere.
At Augsburg, Lyda received BAs in English and history, despite the fact that everyone, including many of the department's professors, thought she was a studio arts major. Their assumption wasn't completely without substance as Lyda does dabble in the visual arts. Though she briefly sold some of her work as tarot greeting cards, these days, she mostly posts fan art of her Anime obsession, Bleach. (You can see her art on DeviantArt at: http://junko222.deviantart.com/
On August 5, 2002, Lyda became an "ima" (Hebrew for mother) to Ella Durene Mae Morehouse Rounds. Ella was stillborn, but she lives in our hearts. If you want to read about Ella, please check out Ella's page. We tried again as soon as Shawn was physically able, and we are now the proud parents the best grown man (he just turned 18!) the universe, Mason Gale Morehouse Rounds, born July 2003. Lyda legally adopted Mason on December 5, 2003. My young man is headed off to university this year!
Lyda is currently attempting to live the life of a full-time writer to varying degrees of success.
Still want to know more?
["New" 2013] Paul Weimer at SF Signals interviewed me when the e-book for Archangel Protocol came out. You can find it here: Lyda Morehouse on Writing, Pseudonyms, Falling into SF/F and "Archangel Protocol"
My alter-ego and I did a podcast for Adventures in SF Publishing with Shawn Ferrell that is available at http://adventuresinscifipublishing.blogspot.com/2007/07/aisfp-26-tate-hallaway-and-lou-anders.html.
A long, detailed interview about me by Lynne Jamneck appeared in the 24 July 2006 issue of Strange Horizons.
A very brief interview with me/Tate appeared on the Oshkosh Word Nerd blog: http://bkwriter.blogspot.com/2006/06/author-answers-with-tate-hallaway.html.
And, please don't feel like you shouldn't write Lyda! Lyda is always happy to answer questions about writing, books, or her universe any time!