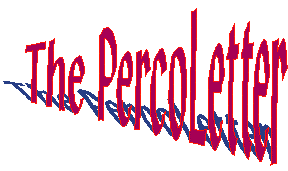 Hello drummers, percussionists, and friends. Welcome! Yo manymak! Wilkommen! Irrashaii! Alafia! Jambo!
It is becoming universally understood that music brings to life the many diverse cultures of the worlds people. Drummers understand that probably better than anyone. What better way to show the link between people than through what drives us and follows us wherever we go. When people travel, or migrate, the one element that remains true to their heritage is - the beating of the drum.
This "Percussion newsLetter" has a drummer and percussionist web site list. I hope it will keep all of us in touch and informed. Some of the sites are tribute sites honoring drumming greats! Most are current professional drummers sites, endorsements, or retrospectives. Taiko, Jembe and other ethnic drum sites, are represented.
Other links can be seen on the Recommended Sites page. When I receive information on events and activites I will post them. Some articles I have on percussion are below. Your comments are requested. Please Email me if you know of information or a site that should be here, or if one falls offline. With your help I can keep it updated. Thanks and keep the beat alive, on our small planet!
Click here for Articles and Reviews
| | | | | |
| --- | --- | --- | --- | --- |
| Home Page | Taiko Page | Percussion Sites | Lessons | Calendar |
| | | | | |

Drum Sites From A Small Planet. (Some sites may have changed.)



Send email to Kenne Thomas at:


copyright © 1997 - 2004 , OFFICE KZ