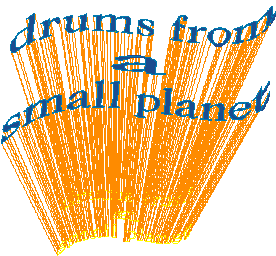 ©

Adventures in World Music and Culture
Welcome to drums from a small planet
The world is increasingly becoming a global community. World Music, or World Beat, is now a part of the mainstream.

The "small planet" is not fully viewable with a FRAMES Challenged Browser.
To optimize your audio/visual experience please download a browser that supports FRAMES and Multi-Media, such as: Netscape Communicator, or Internet Explorer, which include Multi-Media Plug-ins.

Earlier browser editions can view the site by clicking on one of the topics. The page should open in a new window for viewing. Unfortunately the complete site page will not be fully viewable and functional to older browsers.
---
---
Thank you for stopping by. I hope you will return to enjoy the full frames site.


copyright © 1997, 1998, 1999 - OFFICE KZ