::Title: Tibet / Nepal / Thailand Trip 1998 ::Author: Steve Engelhardt, steven_t_engelhardt ::
Tibet / Nepal / Thailand Trip 1998
Potala Lhasa
Sept 17: Thursday: Mpls - Tokyo
Well I am on my way to Tibet on Northwest Airlines, They have just Settled a Pilot strike 5 days ago and I am lucky to be leaving at all. I have been rerouted via Tokyo in-route to Hong Kong. I am advised to Get to the airport early for the 14:50 flight. After getting my boarding pass I get on a local bus and I go to the Mall of America where I spend a little Over an hour visiting the Underwater World. Returning to the airport I board the 747 and we wait for 1 final crew-member. Our plane is about 75% full, it is 11.5 hour flight to Tokyo. It is a long flight, one lady managed to set of the smoke detector in the lavatory, other than that it is just a long flight.
Sept 18: Friday: Tokyo - Hong Kong
We reach Tokyo at 17:30 and I have to 19:00 before my flight to Hong Kong leaves, I check out the Duty Free shop and find some things To buy, but I will wait for my return to pick them up. It is about 5 hours To Hong Kong. I get in about 23:00. Ok now I need to find a hotel, and Find a way to get to Chengdu Saturday. Well a lady tells me she runs a Guest House at the Mirror Arcade, well was where I was planning on staying. Some Spanish tourist and myself follow her to the hotel. We take the cheapest way, first we travel on local bus then we take the subway and transfer one time. It cost $20 HKD. The hotel room cost $220 HKD it is small and ok, I have aircon and TV however I will only be spending about 7 hours here.
September 19: Saturday Hong Kong - Chengdu
Since all of the offices were closed at the Airport last night and They will not open until 9 AM and I do not have any tickets or arrangements at all, my plan is to catch the train to the border Lo Wu and Shenzhen China. I get a taxi to the KCR train station and I just catch the train $33 HKD to the Border. After carrying my backpack through the border I realize that Shenzhen Is not a small dusty border town, I catch a taxi to the Airline hotel and I arrange a flight on Great Wall Airlines at 11:50; I have to hurry and they Get a taxi that will take me to the Bus station and a Bus to the airport. Well I just make the bus and when I get to the airport I rush to get my boarding pass and I do make the Plane for Chengdu. All of this without any Yuan, fortunately they like $HKD. It cost me 910Y or about $125. The plane is a 737 It seams ok but the seats are falling apart. Since I was flying through the airport I carried on my luggage. It is a 2 hour flight, it is mostly cloudy and It is raining when we land. I catch a local bus however I don't know where To get off and I miss my stop, I hire a peddle cab for 10Y and it is about 1 mile back to hotel. When I reach the Hotel I find about 6 travel agency's dealing With Tibet tours. I stop at one and sign up with one leaving on Monday. They Also get me a discount on my hotel room at the Traffic Hotel unfortunately I run into Ben who is from Belgium and very drunk, I continue to run into him and he thinks I am his friend. The single room has aircon and a bath for 175Y or about $21 USD. The group tour to Tibet cost me 1950Y or about $250 USD it includes Bus to Airport, Airline Ticket, Bus to Lhasa and 2 nights at cheap hotel in Lhasa (shared). This hotel has been described as a backpacker's paradise, and it is, it has several restaurants, shops, acupuncture and of course Internet Room. Chengdu is a mixture of old and New china with may older building making way for new ones. There are still a few Tree lined boulevards, which are very nice. It is a busy city.
Sept 20: Sunday: Chengdu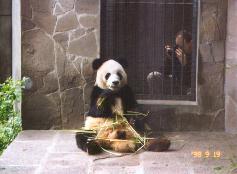 Giant Panda
Wenshu Buddist Temple
Today I explore Chengdu, After having breakfast at the hotel I catch the #55 bus to the Northern Train station 1Y, from there I take a taxi to the Giant Panda Reserve 22Y the reserve cost 10Y. There has been some damage here do to the rain with some roads washed out; I also saw sandbags from the bus. Only 4 Giant Pandas are here because of the very wet conditions and they moved the other to a dry local due to health reasons. I get to see a couple eating. I then take a motor-bicycle to the Chengdu Zoo where there are more Panda's and many other animals. Many parents are here with their child. The zoo is like a prison for the animals, just concrete cages. After returning to the hotel and Lunch I catch a taxi for the Wenshu Buddhist temple. People are praying to Buddha. I return to hotel and check with the tour company. I am Ready to go to Lhasa
Sept 21: Monday: Chengdu - Lhasa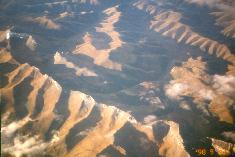 Mountains Eastern Tibet
At 5AM I check out and meet our group in the lobby, most are Germans and Japanese I am the only American. There are 20 of us including Ben. We get in This beat up Chinese bus, we pile our bags up front and head for the Airport. At 5:30 AM Ben insists we stop the bus and he goes out and buys a couple of Beers, he also insists on smoking on the bus which irritates many of us. We assemble at the Airport and get our boarding passes. There are 2 planes and I am on the first, my bags ended up on the second. It is a two hour flight to Gongkar Airport and we saw the barren mountains of Eastern Tibet. When we reach The Airport there is no Ben, it seems he was so drunk he forgot his passport. It is a 2 hour bus trip to Lhasa. We stop at the $200 USD a night former Holiday Inn Now called the Lhasa Hotel to let off a few people and the rest of are booked In the Tashi Hotel. They were going to put me in a room with 2 Korean Guys but I opted to pay 40Y or $5 USD and have my own room. My first impression is this Is a busy and noisy city not some backwater place, people drive with their horns Like they do in the rest of china. I am about 1/2 block from the Barkor so I check that out first, there are many Monks and street vendors selling their wares, also many beggars. I am probably like a lot of westerners, I don't give Money to beggars, it just encourages more beggars and they focus on visitors. I understand it is part of their culture, but if I give to one, then do you Give to every beggar? I check out the Barkor Café and have a bit to eat. They have an Internet connection but unfortunately their ISP chinacom is Down, It was down the whole time in Lhasa. I return to the hotel to send out Some postcards and to rest.
Sept 22: Tuesday: Lhasa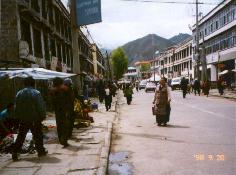 Lhasa Dekyl Shar Lam
This morning I walk to the Barkor and catch a bus to Drepung Monastery. The bus is a dog and it just makes it there, the driver has a tank strapped To the back of his chair and a hose running into the engine - I do not know What is, is it fuel? It turns out to be water, perhaps water helps the engine run at these altitudes (12,000 feet). I go in with some Germans and we visit Many rooms with sculptures and other works of art. The view of Lhasa is also Very good from the Monastery. After returning to the hotel I rent a bike at The Snowland hotel which is very close. I ride to the Potala and then on to The Lhasa Hotel (former Holiday Inn) and I stop at the Hard Yak Café for a Coke and a tee shirt. Next I ride to the Norbulingka or the Summer Palace Where the Dali Lama would spend his summers. The ticket man tried to short change me 50Y and I made a fuss and he eventually gave me my change when a Group of Japanese Tourist showed up. I get to see the Dali Lamas residence And his 1956 Philco Radio. I return to the Hotel where I am to meet Daemon An American from Greenbay (the only American I will meet on this trip). He had put up a note looking for people to form a group to go overland To the border. At 5PM he does not show, A lady from hungry (Christa) Is also waiting. Later at 6PM he show and thought we were to meet in the Lobby, well I checked the lobby. He says there are 2 British ladies also Wanting to go. But they want to leave later and spend more days site seeing. Myself and Christa would like to leave Thursday and take 3-4 days. We also Here about a Bus leaving Friday for 350Y or about $45 USD 2 Days. If you Hire a Landrover it cost about $1000 USD or 7500Y, Airplane cost 1600Y or $200 USD. So in order to justify a Landrover you need 5 people to split it. I Would like to stop at Everest Base camp myself. That evening we here about 2 people at the Barkor Hotel who also wants to go to Nepal, their visas expire on Monday. We will meet at 9AM tomorrow. And I see Ben, he made it to Lhasa after all, and yes he is holding a beer when I see him.
Sept 23: Wednesday: Lhasa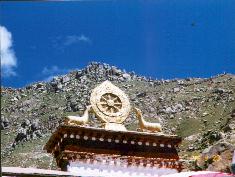 Lhasa Sera Monastery
At 9AM Myself, Christa, Bruce and Jackie from New Zealand meet at our hotel. They have all decided to take the bus, it is much cheaper I have little choice but I don't mind, It turns out that not only do you Need to get 5 people to agree to share a landrover but it takes several Days to get this all arrange we could not have done this in time. So the bus it is. Next we try and find a travel agent who will sell us A ticket for the Bus, I had talked to him the day before and his office Is in the hotel next to my room. Unfortunately he is not there and we try all day to find him. Finally we find a travel agency across the street and they sell Us the tickets. Ok now I can catch a Bus to Sera Monastery. I visit the large assembly hall there and the many rock painting. When I return I go to Palhalupuk Cave Temple where the have ancient terracotta Buddha's. It also has An excellent view of the Potala.
Sept 24: Thursday: Lhasa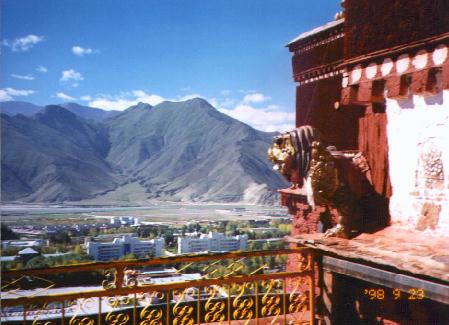 Lhasa: View from Potala
Today I walk down to the Potala and buy a ticket to enter. It is a long walk uphill and it takes a while. I visit the Dali Lamas Quarters, he has his own bedroom, study, and worship room. I do some final Shopping at the Barkor and prepare for tomorrow bus trip. Lhasa is a Chinese Town, a military town, and finally a Tibetan town. It is being overwhelmed And smothered, and loosing its heritage.
Sept 25: Friday: Lhasa - Lhatse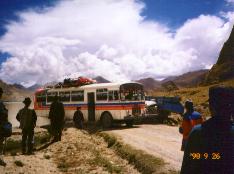 Accident on Friendship Highway?
I have been told the Bus leaves at 9:00 and 9:30 and that it leaves in front of our hotel or across from the travel agency. We had also been told it was a New Japanese micro bus going to the border to pick up a tour group. Well it is a beat up old, large Isuzu bus, well it is Japanese. We are told we are on the wrong bus, our tickets are no good. We had been told this is the bus, we don't get off we get the travel agent to come and straighten it out with the bus operator. OK but we still wait, they have to get permits for the Japanese tourist they are Picking up at the border. And we are off for about a 2 miles, we stop at the Lhasa hotel and pick up a couple who had just paid 2000Y each for a LandRover We told them we had paid 350Y and they were getting ripped off, they got off the bus shortly there after. We stop at Chushul for lunch. After lunch back on The road we pass the Gongkar Airport turnoff and shortly our road turns to gravel. It is very rough barely a road, there are many washouts and landslides Progress is slow and we all get banged around a lot. We are basically going down A river gorge. The scenery is very interesting, not many people live out here And for the most part a barren landscape. The rivers we see in Tibet are very Rapid, there is a lot of water flowing here. We get to Shigatse Tibet's second largest city, this is where we were to have Lunch but now it is dinner. The road is worse now and we have to get off twice because it is dangerous and Only the bus driver drives the bus through the washout. We finally arrive at Lhatse at 00:30 and 12 of us share a room for 20Y a piece. We spend the night at This truck stop.
Sept 26: Saturday: Lhatse - Nyelam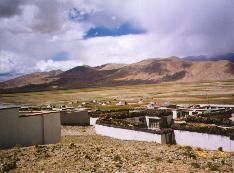 Town: Tingri Tibet
At 8Am we start off with another long day on the bus. We will be going over 2 High Passes, 5220 Meters and 5050 Meters. But first a fight breaks out on the bus between the Japanese and our Tibetan driver. When we first got on the bus the Tibetan's got on First and took the seats up front, the Japanese got on next and sat In the rear, (there are about 12 of them) and the rest of us (White) Filled in the middle. Well the ride is worst in the back and this Morning they rushed to get on first and they moved up. Christa the Hungarian women was late getting on the bus and lost her seat. She insisted that the 2 Japanese move and they would not. There were 2 japanese men who were the instigators behind this and they claim white people get preferential treatment. The bus driver came back and He was mad at them and told them to get off the bus, the argue for quite a while. The driver had a knife curled in his hand and was shaking his hand next to my head. I am told the Tibetan custom is to stay in the same seat through out a trip. Finally they give the seat up to her and we continue on. The road or what is left of it is very bad. We start to climb and after a couple of hours we reach Lhakpa La pass at 17,120 ft the highest on our trip. It is cloudy and there is snow on the ground, we do not stop. We continue on to Tingri where we stop for lunch at the Amador Hotel. The owner was very helpfull and we had a good lunch. Most of us climb the hill behind the town for a picture of Everest. The town is very Tibetan and and there were quite a few people on the main street. Unfortunately the children are now beggars and they ask for money all the time. We continue on the rough road. There are no bathrooms, when necessary they stop the bus on the road and the Men go one way and the women go another, there are no tree's just a few rocks to hide behind. We continue for hours and we approach the next pass of Lalung la at 16,560 ft. We stop for a few minutes there are prayer flags here and the Tibetans and the Japanese worship here. here. From here it is all down hill into Nepal. We wind our way down and around for a long time. The scenery turns much more green and we see many Tibetans as we drop in altitude and the land becomes more rich. We reach the town of Nyelam at 8AM and our driver says we must stop here, it is too dangerous to drive these roads at night. We are about 25K to the border. This is a town wedged in between the mountains and the river, it is very dumpy. Unfortunately two other buses going the other way show up at the same time and we have to hustle for hotel rooms. Neither hotel has a bathroom so we go out on the cliff's to relieve ourselves. I share a room with 3 French for 15Y. There is a restaurant across the street but the prices were high so I found a place down the street.
Sept 27: Sunday: Nyelam - Katmandu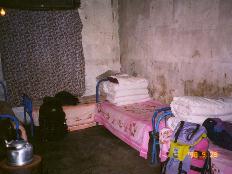 Hotel Room Nyelam
Today we leave for the border, I had gotten my bag from the bus because I wanted to change my clothes, I remark that when I get to Katmandu I will Want to take a shower, the lady from Switzerland and the couple from New Zealand Remark they have not had a shower for 3 months and I indicate I could tell and They took that as a compliment. Since we only got 25K to the border we just Pile our packs in the back and we all got our seat. As we continue to wind Our way down, there are many streams some of which under cut the road, there Is also quite a bit of logging going on. We pass through a bridge that has a stream cutting through the roof and driver uses this a truck wash, good thing I took my bag down. As we approach the border Zhangmu we reach a PSB stop And they check our passports, they looked at the Tibetans papers and then some Of the Japanese passports. Our driver tells the officer about the trouble The Japanese caused on the bus and the officer collects all the Japanese passports and has them taken to the police station. One of the Japanese men Starts yelling and cursing and one of his friend has to pull him away. I was Waiting in line but I just got back on the bus and they never did check my passport. We continue on for about 1/2 mile and our driver stops the bus and says This is all the farther we go. It is still about 1 mile to the border. Well ok I put my backpack on and head for the border with 3 others. I later Heard there was another fight between the driver and the Japanese that was very Ugly. The Japanese could not cross the border without their passports. I later talked to some of them in Nepal and they said they were detained for 4 hours and fined 50Y. They had to ride a truck all the way to Katmandu and did not get there until 8PM. My trip was a little nicer, I had to walk 1 mile but it was down hill. I exchanged money on the street because the banks were closed on Sunday. I made it through the border with no problem and now we have 5K of no mans land to the Nepal side. I was foolish enough to purchase travel all the way to Katmandu. Everyone else just bought a truck ride to the border and then arranged transport to KTH there. Three people walked and they actually got to the border before we did, and the back of the truck was very rough, one lady got sick. At the Nepal border Kodari we had to go inside and get our visa's stamped then I got put in a taxi with several Nepalese men (I am paying their way) and we head for Katmandu.
Part 2, Nepal, Bangladesh, Thailand