::Title: Eastern Europe trip report ::Author: Steve Engelhardt, steven_t_engelhardt ::
Trip Report 5/13/93 - 6/3/93 Eastern Europe / Scandinavia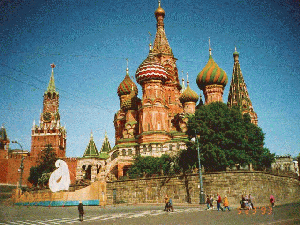 Kremlin - St Basilis in Moscow

Music from Russia - GOSTYAH U RODINY
Thursday May 13, Day 1: Airplane
After a Full Day of work I left for the airport at 4PM. Boarded Flight 44 for London Gatwick. We left 1/2 hour late at 6:45PM. After 8 Hours we arrived at London Gatwick at 2:45 AM CDT or 8:45 GDMT. The flight took us over Hudson Bay, Nova Scotia, Greenland, 50 Miles south of Iceland. I could see nothing because of clouds. However we were very far north so that it took 2 hours for the sun to set and then 15 min. later we saw the sun rise for about 3 hours. The plane ride was excellent (747).
Friday May 14, Day 2: London
At Gatwick after leaving plane I took a tram to the next building where Immigration/Customs was. After clearing customs I meet up with Cosmos Rep. Finally we left Gatwick at 11:30 AM for New Barbican Hotel which was last stop. On the way to London which takes an hour we passed many small farms with horses/goats very green/picturest. When we reached the outskirts of London the streets were very narrow and wound around all over the place, no I idea where we are. And they drive on the left which Is very confusing, especially for pedestrians. Finally reached hotel at 1PM and checked into room 2316. The hotel room was very nice with 2 single beds, I was by my self. Took off for Old Street Tube Station (Subway). Got lost and ended up at Moorgate station. Took the tube to Elephant and Castle Station on the other side of the Thames river. I walked to the Imperial War Museum had tuna and corn sandwich. In the museum they had a WW1 tank, V1 and V2 rockets, spitfires He162 jet, mini Submarine, Blitz experience and Trench warfare experience. Afterwards I went back to the Tube station and rode the subway to Old Street and walked to hotel in the rain. Later I went out for fish & chips.
May 15, Saturday Day 3: London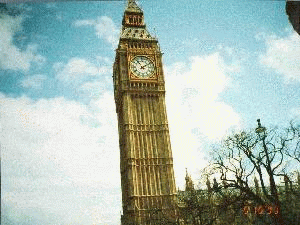 Bigben clocktower - London
Had good continental breakfast in morning, took Tube to Tower with 1 transfer. I walked through the financial district close to St. Paul Cathedral and I stopped at an automated pay toilet, In Europe pay toilets are the standard. This one you put your 15 pence in (25c) and the door opens you get in, I put my bag on shelf and the valve opens and fills it with water, thank you very much, there is no lid to toilet so I sit down anyway, when done you push button and door opens and you get out the entire toilet is sucked in and washed. Tower opened at 9am and went and saw the crown jewels with no wait. Listened to the Beefeaters and toured the grounds and the armory. walked across tower bridge and over to HMS Belfast. Toured the ship, many displays on all kinds of naval stuff. Took tube to Westminster, Went inside Westminster Abby, walked by Whitehall, Trafalgar Square, and finally visited the Cabinet War Rooms which are under the Archives Building. Return to New Barbican Hotel in the rain by way of the underground. At 7pm I took the tube to Piccadilly Circus and walked to Burger King for a beenberger. I then walked to Victoria Station and Buckingham Palace just as it was getting dark. I then took the tube to Angel station and walked back to hotel. Angel sq. was very lively with many young people.
May 16, Sunday Day 4: Channel Crossing
Woke up at 5:30 AM and put out luggage, had continental breakfast at 6 AM. Meet in lobby at 6:30 nothing happened until 8 Am. When bus left for coast, stopped at Royal Scott to pickup more people for channel crossing. Their are two tours on our Bus, and several people will meet us at Sheerness for crossing. Boarded ferry and put to sea at 11AM for Vlissingen Netherlands. The trip is 285 km or 144 miles, we sail at 18 knots or 25 mph and the trip takes a total of 7 hours to cross. The seas are calm, and I can see coast line all the way across including Dover and the French Coast. I hung out with the Maxwell family from Salem Oregon Donald is a retired Western Electric Installer and X Navy, they are taking 3 trips back to back. Also from the Maxwell family is Jane his wife and his mother. It turns out this is the first tour of the year to Russia with previous 5 being canceled. The ship is very nice with a cafeteria, duty free shop, 6 cinemas. We arrived at 7 PM UDT or GMT+2 Customs waves us through. Boarded our Bus and meet Patrick our driver and Philip our guide. We have 40 people so far on our tour. Also our bus in only 3 months old and was built by Belgium EOS company. We drive 2 hours past Amsterdam to the Hotel Ibis Amsterdam Airport which is 9 ft below sea level we also picked up our last 2 people so we now have 42. The group broke down as follows, 6 Canadians, 6 UK, 6 Australians 2 New Zealand, and 22 from US which were mostly Asian. I check into a room with my roommate Jason Patrick-Collins from Melbourne Australia. His mother and a friend are also on this trip.
May 17, Monday Day 5: Amsterdam to Berlin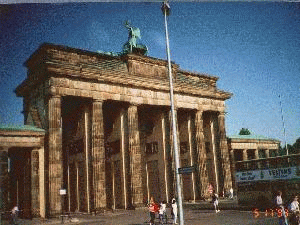 Brandenberg Gate - Berlin
Woke up at 6:15, bags out and breakfast at 6:45, leave on bus at 7:30 for Berlin. Roads are very good and the country side is very green, maybe 3 weeks ahead of MN, anyway they are already harvesting hay. There are many trees and forests on the way. We pass the Netherlands / German border with no checks, We do stop for lunch however and I had a wonderful Snitzle. Continue on for Berlin and pass where the West and East German border was. Lots of concrete barb wire and gates, now all abandoned. The east German side looks old and run down and not modern at all. However used cars from the west are being brought in and they are all over the place, many are being towed further east into Poland & Russia. We reach Potsdam and then Berlin and go though another set of huge concrete and barbwire abandon border crossing into West Berlin. We then took a city tour at about 7 PM and made a stop at the Brandenberg gate, CheckPoint Charlie. This was a cheap city tour, we drove by the Reichstad but did not stop and did not have time to walk from Branenberg gate over which was about 3 blks away. I bought some souvenirs including a knife and Russian metal. We arrived at Hotel Ibis Berlin at about 8 PM and some of us (Aussies and Keewe's) went out for a walk and we found an Italian Restaurant and ordered a small individual pizza which turned out to be huge, it was also very good. I stopped and at a place with Engelhardt beer and picked up a name plate. Later I had some German chocolate milk, just wonderful. We returned at 11:30 PM.
May 18, Tuesday Day 6: Berlin to Warsaw
Continental breakfast at hotel Ibis in Berlin, Breakfasts in western Europe, England, Scandinavia consists of cereal and milk, rolls, white and rye bread with jams and butter, Boiled and scrambled eggs, flat bread, orange juice, coffee, and tea. Head for German-Polish border. The view still the same with run down small towns and a flat landscape. Farmer live in small towns and go to their small plot every day. They usually have a cow or a goat that they tether. We arrived at the border where trucks are queued up for 6km they have to wait 2 and 1/2 days to cross. Their is a separate line for cars and busses. The cars have to wait several hours, these are mainly cars purchased or stolen being brought into Poland or in transit to Russia. It seams as though cars are brought into Poland and the polish cars are them exported to Russia, anyway the traffic is eastward. It takes us 1 and 1/2 hour to make it through, the slow up may be do to the fact Germany is not allowing beef products into Germany claiming disease animals. any way at the border I exchange $20 for 325,000 Zloties. We then proceed to Pozner Poland. At Pozner we are offered an optional lunch at $10, a lot of us have eaten so much we just as soon not have a polish sampler lunch. Those of us who do not want the optional meal are dumped on the street for 1 1/2 hour. We are told their is a bar about 1/2 mile but this is ridicules. After lunch we pickup our polish guide and find out that chopin villa is closed. We then proceeded for Warsaw. I noticed that the houses, factories are very dark - dull - dirty but the people seem to be wearing western type clothes which we colorful. We arrived in Warsaw and check into Grand Hotel which was definitely dated about 1960 and it had an ittsy elevator good for about 3 people. We had room 667 which had a thick carpet to cover up rotten and warped floor. The carpet and walls were all dark and the blanket of course had a hole in it. The bathroom was different, the ceiling was about 11' high same as the rest of the room and the bathtub was 3 times as deep as what I am use to, I forgot my lifevest, I told my roommate that they used the bathtub for slaughtering hogs. Several of us walked about 6 blocks to the Amusement park which had just closed, we returned to hotel about 11:30.
May 19, Wednesday Day 7: Warsaw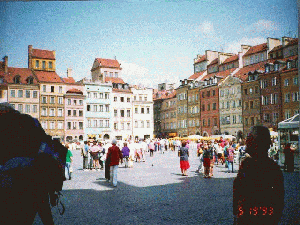 Oldtown - Warsaw
When I woke up there was yelling and screaming from the bathroom, it turns out that Jason had turned on the water full blast without grabbing the handle and now the shower nozzle was attacking him in the shower. Breakfast at 8AM with cereal with warm milk and cold cuts. Went on city tour of Warsaw, we left Philip at Russian Embassy to fix several visas. This was our tour guides first visit to Poland and he did not know Berlin either, and he had never been in Finland or Sweden either. His expertise was only in Moscow and St. Petersburg. Anyway we tour Warsaw including the palace and watergarden where there is a statue of Chopin. We had a photographer take our picture for $3. Victor our polish guide was very good and a real patriot of his country and he showed much spirit for his country and contempt for Russia. While close to the palace a motorcade with the US Ambassador showed up and chased our bus away, this park had earlier been the scene of solidary protest against Lech Walesa. We then went down to Old Town and visited the church and buildings down there and saw an excellent movie in the museum. We lost 1 person when he went the wrong way to the bus. We then toured where the ghetto stood. 85% of Warsaw was destroyed by the Germans with the Russians looking on. We returned to hotel where we had the afternoon to ourselves. Several of us walked on down to the open market and shopped for a while and then had lunch at McDonnalds. A big mac cost 45,000 while a shake cost 15,000. We then returned and had dinner which consisted of liver and peas with rice salad, chunk of beef, and ice cream. I returned to the hotel room where there was no TV but a shortwave radio. The people in Warsaw seem to have a lot of spirit even though they are having a lot of economic trbl. The small cars and small trolleys are cute, many of the streets are wide boulevard 8 lanes wide, some with trolleys in the middle.
May 20, Thursday Day 8: Warsaw to Minsk
Had breakfast early and leave for Minsk. Some of the women had to have a comfort stop more often then our guide wanted so they ganged up on him and set him straight. So after 2 hours we had a comfort shop, what comfort? the toilet consisted of a shed with no door and a hole in the floor and no stool, we did have fly's and it was smelly well I had a cold at the time and I could smell nothing which was good, at least its free, most every one opt for the bush. We reach Polish-Russian border as usual the trucks are backed up several miles. The Polish guards collect our passports and stamp each one with an exit stamp, Mean while we fill out a Russian Declaration form which includes a currency inventory. Unfortunately half our forms are in Russian and half in German. Our guide helped us fill this out. Anyway after the Poles were done we had to wait for the Russians, anyway they claimed our driver lost his form. Finally after 2 and 1/2 hours we are in Belrus. We pick up our Russian guide Svietlana at the border, she will be with us the way through Russia, She reads from prepared text and does not present much of a personality. We will also be having local city guides in some cities. We had a good lunch at Brest which is the border town, we had fruit, coke, Champaign, borsh, french fries, beef, caviar, and ice cream. Talk to some young kids who give us metals, I handed out M&M's and gum. We continue to head for Minsk and pass large collective farms and forests the land seems very fertile. The roads are worse the farther east we travel, they seem to be about 2-3 lanes wide with no lines so basically you have a suicide lane in the middle. There are some slow moving trucks on the road but you would expect a lot more traffic on the main land route to Moscow. Also where ever there was a gas station there was usually a line about a block long. We make another comfort stop in the middle of nowhere and the facilities are the same with just a hole in the ground. We encounter our first sales people selling hats and dolls, it turns out their prices are about twice what we will pay elsewhere. We arrived at Minsk and check into the Planet Hotel room 418 and we had color TV! including MTV and CNN. I watched a Russian version of wheel of fortune where they were giving away toasters and vacuum cleaners. We then had dinner which consisted of carrots, fanka, salad, chicken periskies, and ice cream. Took an evening walk to park across the street, almost got run over by a car with its lights out driving on the side walk. Evidently in Russia they drive with only their parking lights on at night and they flash their headlights to pass. Across the street from the hotel was a huge complex of prefab apartment buildings about 15 stories high with about 25,000 people leaving there. What seems to be the standard is to have a group of apartment buildings with a park located close by, there are lots of parks and forest preserves in Russia.
May 21, Friday Day 9: Minsk to Smolensk
Woke up and watched some Russian cartoons, later went to cash office to cash travelers checks, They would not except them because they were endorsed in red ink! I then went to breakfast and started eating only to be told that I had sat at one of the Austrian tables and that I had to pay. Go back to room and pack for Siberia. I bought 2 Russian hats for $10 and a flax doll for $2. We then went on a city tour of Minsk. The city was rebuilt after the second world war and things still look like 1950 now. They rebuilt buildings the way they were in the past. This city is an excellent example of how Russia looked under communism, there are no Coke signs and there are still Lenin status around the busses and trams are very dated and the buildings could use some paint. In the stores I went into there was a lot of room and in one corner there may be something to buy, if so their was a line. In Russian the huge apartment buildings have there ground floors with schools and shops. Young kids follow Us from stop to stop selling us things. We ate lunch which included chicken soup which was wonderful, especially since I had a cold. By roommate could not handle Russian food at all so he cut up a mars bar and ate it with us, back home he eats at Burger King. After eating lunch we head for Smolensk. The land still seems fertile and we start seeing more forests. In Russia either you see country side with small villages/communes or Cites nothing in between. Western Russia has vast open spaces with much more land that could be farmed, and they still have Siberia. We came across an over turned truck on the road, we quit a few accidents on our travels, the road are very rough and truck usually go slow. We listen to Russian music on the bus. As we pass from Belrus into Russia proper I notice the land more clay, less fertile. We pull into a truck stop and are told this is our hotel the best one in town! The Phoenix You should have seen their faces drop. Our rooms are on the 3rd floor, there are no elevators. So I picked up my bag rather than wait. Our guide checks in with the local Moffia, a young guy wearing 501 jeans and spoke perfect English, if one of the salesmen needed change he had it. Basically the Moffia runs the dollar economy and controls all goods bought and sold with hard currency including souvenir and prostitutes. They also guard the hotel. Our room has no phone or TV but does have a balcony and they use the drapes as bedspreads. We have dinner and which consisted cucumbers beef and ice cream. later we follow the signs to the casino only to find a 2 rooms with the connect wall removed and a blackjack table. There is also a bar on the 2nd floor which sells water and pop along with beer. Down Stairs there is also a bar where the prostitutes hang out. This hotel is basically there for the truckers.
May 22, Saturday Day 10: Smolensk to Moscow
We have a omelet, bread, water for breakfast. Our bus is broke down and we are desperate to get out of this place. Fortunately it is only a fan belt and we get it fixed. We then depart on the city tour of Smolensk. As we approach town people are trying to hitch rides by putting there hand out. I see one family riding to town in a cart towed by a tiller. We enter Smolensk, which was also occupied by the Germans and rebuilt. It is the most run down dilapidated place on our tour. All of the busses and trolleys are very old and their paint has faded. Nothing is modern at all. This is amassing since this city has an aircraft manufacturing facility for Aeroflot and military aircraft. There is even a plane down town in a square on display. I also saw many brand new tractors leaving town on train and truck. We went to see the Russian Orthodox Church during mass, it was incredible, many older women we their singing and lighting candles, the walls and ceilings were full of icons. The kids are following us everywhere on our tour. Mikhail is our local guide and takes us around. He makes about 20,000 rubles or $20 a month. We try and tip him but he says goodby and makes an exit, most Russians are proud and do not want pity. I buy a red flag and Gorby doll. We go back to hotel for lunch at 1 PM which includes bread, water, potato soup, chicken, tomato, cucumber and cream puff. We hit the road for Moscow and the road is still rough and land is flat, there is little traffic on road. A couple of hours later we made a comfort stop. We are their for 1/2 hour and Ms Mcbride finally comes out of the biff. Back on the road an half hour later we have to make an emergency stop for her and she goes into the bush, evidently she cannot handle the food and is some what sick. Our driver has to get her luggage out and some of the other women go and help her. Ms McBride is 82 years old and is traveling alone, she was going to travel with her aunt who is 69 years old but she had a stroke and could not come, she also had no insurance and lost the money she paid for the trip. As we approached Moscow the traffic started getting heavier. There we many broken down car and trucks plus long lines at the petrol stations. It also started to rain/snow for a few minutes. We finally reach the beltline which runs all the way around Moscow and defines the boundaries. We finally can see our hotel the Solechtany, their are big trucks parked all over, the evidently are camping out waiting for Monday to deliver their goods. We check into the hotel and then had dinner with more cucumbers, tomatoes, bread, beef, and we had bananas. Back in the room I promptly destroyed the toilet by bending the plunger, we complained but they never fixed it so I just manually flushed it. Later I went on the Moscow at night tour to Red Square. It really wasn't dark enough to see the spires lit up. We picked up Olga, Phillips Russian girl friend at Red Square. We saw the changing of the guard at Lenin's tomb, and St. Basil's Cathedral, later we drove past some other places including KGB headquarters, Bolshoi. We then returned to the hotel which is about 12 miles from the center. We past one huge curved building that has 16 stories high and 1/2 wile long. We find out that they manufacture small engines there. People on the street are awestruck by our bus. They see us as alians which I guess we see them as, most tourist to Russia fly in and use Intouist busses which are nowhere as plush as ours. We are one of the few that operate overland. I get back to the hotel by 11 PM and take a shower.
May 23, Sunday Day 11: Moscow
We wake up to no hot water and when people ask they say it broke who knows they would just as soon tell a lie as tell the truth. It is 6 degrees Celsius in the morning but the sun is shining. We had bread, jam, orange drink, egg. We leave on city tour at 8:45 for city tour. We drive down town to Red Square, traffic is light because it is Sunday. We pick up Helena as our city guide. We tour Red Square again and one of are party offer a KGB officer $5 for his hat which he accepts. After spending an 1/2 hour at Red Square we go to Novodevichy Convent a religious outpost where men could drop off their wives to be nun's when they got tiered of them, we then checked out the Russian Whitehouse, KGB headquarters where they replaced Lenin's statue with a cross. Next we went to the Moscow University which is housed in one of Stalin's 36 story skyscrapers. Where we stop is on a bluff overlooking the Moscow river. There are many street vendors here and everyone goes shopping except John. Let me tell you about John, He is an Australian working in Great Britain as a Physicist. During the trip he does not buy a single souvenir. For lunch we go to the Hotel Russia with 6,000 rooms it is the largest hotel in the world. We had lime drink, hard bread, bouillon soup, beef surprise, and ice cream. After lunch we went to ride the metro. This is the greatest adventure of the whole trip. The plan is for us (35) to follow our Russian guide into the metro and take 4 trains and end up where are bus is waiting. In the process we will spend 1 1/2 hours in the metro and visit 4 stations. Considering everything else the metro is unbelievable efficient. The stations are clean and beautiful, the escalator are 2x as fast as anything in America but they are easy to get on and off probably because there speed is that of a fast walk it takes 2 1/2 min. to ride the escalator with an angle of Apr. 20%. Anyway our guide buys us each a token for 6 rubles each which figures out to 21c for all of us to ride. Anyway we get on the first train and go 2 stops and get off, everyone is still here! Trains come every 2 min. and they don't wait in the station long so you better get on as soon as you can, the trains also move right on out so you better be holding on to something (I held on to sherry) the trains seem to travel at about 60MPH. Anyway we tour this second station and make our way to the next platform. This time we get on and go 1 stop and get out. Our route takes us to the outlying circle route, around the north half of Moscow and then back down town. We tour this station which is difficult because of such a large group and people coming and going. After our tour of the station we walk past some gypsy's and to the platform to wait for the next train, we are told 4 stops this time. We stand on the platform and the gypsy's children walk in behind us and start begging and going for peoples purses and pockets. I look to my right and I see Jim a happy go lucky guy from Florida showing the kids his video camera with 3 of them with their hands on his camera. Luckily our tour guide runs over and saves him. as the train pulls in the kids are grabbing at everything and one kid distracts you in front while his brother picks your pockets. I had left by billfold and everything else on the bus. When the train came in and the doors opened we pushed are way on. We all made it on the train and we stopped four stations down and toured that station and then proceeded to our final station where we left the tube and got back on the bus. And we all made it, I still don't know how, and nobody lost anything, not even Jim. We are left down town for a couple of hours to look around and shop. The Romanian beggars are all over and so are the gypsy's. Me and Colin walk down the street toward McDonnalds. When we get there we find a long line, not worth waiting. The line at Pizza Hut is just as bad. We head back to where the hotel where we were left at. To tell you how weird some of the prices are figure this, inside the hotel coke cost $1.39 at bar in the hotel it is $1 and our bus driver sells it at $1 also, outside the hotel on the side walk it goes for 400RB or 40c, down the street you can by a bottle of Pepsi of 15c and I had a cup of Pepsi for 50r or 5c. A piece of Russian pizza was 160R or 16c, there we many other foods there as well. We returned to the hotel with some people staying down town to go to the Ballet. At the hotel we eat lunch and get back on bus to go to Circus at 6:15. The Circus starts at 7PM. The Circus holds about 2,000 people with about 1/3 being foreigners. The tickets cost us about $20 and think locals it only cost them a couple hundred rubles or 20c, they probably have to wait months to get in though. There are actually 3 Moscow Circus's, one permanent, one on road in Russia and one travels all over the world. They are very big on animals and the start out with Bears. The acts include goats, pigs, horses, seals, ect. They also have many clowne and acrobatic acts. We was a good show but not a great spectacular. We returned to the hotel by 10:30 PM.
May 24, Monday Day 12: Moscow - Tver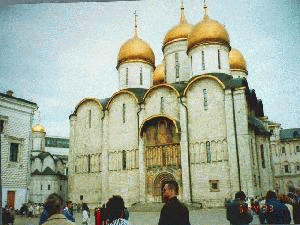 Church of Assumption - Kremlin - Moskow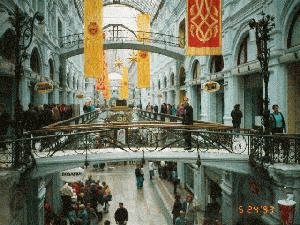 Gum Department Store - Moskow
Breakfast at 8:45 AM bread, cheese, jam, orange, and porridge for breakfast. I helped Philip break his glasses in the lobby. We head for the Kremlin this morning. We enter via the Trinity gate and go by the Czars Cannon and the Czars Bell and go into the Church of the Assumption where all the caskets of the czars and relatives are kept. We stop at Red Square again, they are setting up for a fair and Lenin's tomb is closed. Some of us go to the GUM department store and look around. We had lunch and we headed for Tver at 2:30PM. We arrived at Tver and check into hotel. It is of the same design as the one in Smolensk, however ever it is in better shape. After checking in and dragging my bags to the 3rd floor room 318 and checking to see if we have hot water, we do! Next we board our bus and go on city tour, we pick up our city guide Elainia. We tour the city and stop by the river Volga in a city park. There are many school kids dressed up and happy, it turns out this is the last day of school. From what I understand they are out of middle school and they will take a several test to determine if they will go on to college or technical school. We also went to see an old church, it was on a side street and road was almost impassable and the trees brushed the bus. When we got we found dogs in the street with their owners undergoing obedience training. We visited the church, it was very old (This area is one of the oldest parts of Russia) and it was very beautiful and ornate inside with stain glass and many old icons. We then visited the art museum which most people thought was a waste of time (it was small and not very interesting) they preferred to watch the dogs outside. The dogs we saw in Russia we almost always purebred, many people have pets. The city it self was old and run down like most cities in Russia. At one time it tried to be the capital of Russia but the city of Moscow about 100 miles away prevailed because it was farther from the Swedish hoards. We returned to hotel for dinner and had more cucumbers, pork, bread, cream puff, and water. Where ever we ate in Russia it was in large dinning rooms that were very ornate. They could usually serve between 200-300 people in the room but it was rare to have more than 50 people. These dinning halls had a stage as well.
May 25, Tuesday Day 13: Tver to Novgorod to St. Petersburg
We woke up at 7:15, bags out and breakfast at 7:45. We had an omelet for breakfast today as sour yogurt, bread, greasy cold cuts. All of our bags we numbered and they made sure they were all on as well as counting every one on the bus. We head for Novgorod, the road is very bad. We made a comfort stop at 11 AM and as soon as we stop we had a car show up and setup to sell us goods, our driver tells us he has been following us for 70 miles. Some of the people on our bus are crazy shoppers, the day before could not stand any more vendors but by the next day they would be out haggling for the best deal. In piticular one lady from Canada and one from Australia would always be the last one on the bus and would use that a ploy to get the best deal, Most of us could easily afford the souvenirs as it was but I guess they had to have the best deal. We continue on to Novgorod on rotten road, We pass many Lumber trucks and forest areas. There are many camping areas, by our standard primitive. We reach Novorod and have lunch, this is the worst one yet, the farther north the worst the food. We had bread, cucumbers, tomato, apple cider (we think), beet soup, rice, beef surprise, red caviar, and ice cream. The ice cream in Russia was great the rest of this lunch they should feed to the pigs. In many of the restaurants in Russia they would have a cat there looking for scraps and I suppose to keep the rodents under control. Next we had a city tour of Nororod including the Kremlin, city hall, KGB head quarters (their buildings are yellow and white) the commies were demonstrating there, they want the soviet union put back the way it was, I waved my American flag as we went by. We went by many parks full of dandelions, almost all the parks I saw in the CIS were poorly maintained. We continue on to St. Petersburg and arrived at 18:30. We are staying at hotel Moscov, when we reach our hotel Philip usually goes in and gets our keys. However this time each of us had to go to the counter separately. Outside our bus several teenagers and gypsy's were waiting, our drive tried chasing the teenagers away and finally gave the each a fanka. We then made a dash for the lobby with the gypsy's and beggars following us, the Mafia kept them out of the hotel. After checking into our room went to have dinner, the food we will have for the next 8 meals will be horrible especially the water. The water in St. Petersburg is unsuitable to drink so you must drink bottled water. The bottle water served in the hotel tastes terrible, it is rancid. anyway for dinner we have greasy pork, stale carrots, and of course raw beef surprise. After dinner I take the elevator to the 8th floor, 2 men are on already with the 4th floor lit, 4 other people from our group go to the 7th floor. When we reach the 4th floor the 2 men do not get out and we continue to the 7th floor were 4 people from my group get off. This leaves me and the 2 goons on the elevator, I decide to exit NOW. At least our room has a view overlooking the Neva river. Our room 805 is at the end of the hall and it takes 2 1/2 min. at a fast pace to reach the elevator.
May 26, Wednesday Day 14: St. Petersburg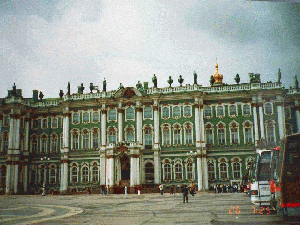 Hermatage Palace & Musuem - St Petersburg
I watched some wonderful Russian cartoons on TV. In the places that have TV they usually have a German channel, MTV, CNN, and some local stations. I went down to the Neva store a hard currency store and I was able to cash a travelers check there after buying some juice, otherwise I was out of money. OK time for breakfast, after surviving stale food again we set out on city tour. We got on the bus a local band was playing the star spangled banner, very nice. The gypsy's and beggars are a little late and we all make it on the bus. We welcome victor our local guide, he is interesting and also knows much about architecture and art. We drove down Nevskys Prospect to the former communist party headquarters now the stock exchange. We drove across a bridge onto an island with the Peter and Paul Fortress. We stopped downtown by the cathedral and me and Philip went to the hotel Aster and I was able to cash 2 travelers checks. We went down and visited the battleship Aurora which is an old battle ship that fired the shot that signaled the start of the Bolshevik revolution in 1917. We also got to shop and I was able to buy a navy hat. After lunch some of us left for the Hermitage which is hosed it the winter palace and 4 other attached buildings. We spent 3 hours going from 1 gallery to the next, it was very impressive. They do not have Russian art here, it is all from the rest of Europe and also some from the far east. There are Divincies , Rembarants ect, ect. There are over 3 million pieces of art there and the rooms them selves are incredible. We return to the hotel and then leave for the optional boat ride. It was raining when we left and it was cool are whole time there. Anyway our boat ride included a Cossack band. They were well dressed and played very well, we also had Champaign to drink and we had a good time even thou we could not see a thing outside. Our guide Philip also danced for us. We return to the hotel for dinner at 8 PM. I found my roommate Jason locked in the bathroom because the handled pulled out. Dinner included bread, rancid water, cucumbers, and raw beef.
May 27, Thursday Day 15: St. Petersburg
Breakfast time again including prune juice, bread, water, eggs, and porridge. Some off us leave at 9AM for the Petrovorets a imperial palace. It takes about 1 hour to travel the 35 miles to the palace. The outdoor gardens are under construction but the inside of the palace was incredible with each room a spectacular as the last. The floors were parquet and there we paintings on the ceiling and gold everywhere. Outside I bought a Submarine Sailors cap and uniform. We returned to the hotel for lunch. After more stale food Jason went to buy some water and the police and security came running, it turns out his money was faded! and they would not cash it. He resorted to drinking city water which tasted much better than bottled water. I went with Collin down Nevsky Propspekt 3 miles to the center of the city checking out stores on the way. We walked to the battleship Aurora and then to Peter and Paul fortress. We walked back a ways and found a boat ride for $3 (locals pay 160r or 16c) and we went around though the canals with narration in overmodulated Russian. We then took the metro to our hotel. So far during the trip one person lost an umbrella and one lady left her false teeth in Moscow.
May 28, Friday Day 16: St. Petersburg to Helsinki
After our last breakfast in St. Petersburg we head for Vibor. We drive by the Gulf of Finland on bad roads again. We stop at Vibor which is the last town before the border for lunch. We had a great lunch there and I bought some caviar from the kids there. I gave a beggar lady some gum and an old man some cigarettes. We head for the border, there is a long line of trucks at the border and also many cars. We pass 4 sets of border checks and fences we stop at 3 of them, the first one they look at our passports, the second one they talk to our guide, the 3rd one they wave us through and finally we reach the real border. We get in the bus line and wait, there are 3 busses ahead of us, they make everyone unload and take there suitcases through. KGB soldiers come in the coach and check our passports. They are quite and make their rounds, I think they understand English however, they have blank faces but they look pretty tough to me. We are given currency forms to out again, they are used with the ones we got entering Belrus they want to make sure we do not leave with more than money then we started. You are not suppose to take rubles out of the country, but we are told we can take a little bit. I have 285 rubles or 28c so I put it in my suitcase. After 2 1/2 hours we make it through, We had to take our suitcases through the building, My suitcase went on the line with the xray machine but the official never looks at the screen he seemed very melancholy. We reached the border at 13:30 and finally reached the finish side at 15:15 and we then clear the Finish border at 15:30. We stop for a comfort stop and then head for Helsinki. We also changed timezone to GMT+3 What a contrast with Russia, we start seeing farms and small towns, good roads yes this is civilization. We reach the outskirts of Helsinki, it is a city of 500,000 however physically it is big and we drive on the freeways for an hour before we reach our hotel Arctic in the suburb of Espool. On the way I see several old American hot rods including a 66 Chevell with flames, evidently cruising is alive here. We check into our hotel room and it was great, with color TV and an ironing board, it was in pastel colors, it was very nice. I had signed up for the optional meal for $10 and it was fantastic buffet dinner. I had the Beef Stroganoff and mushroom soup. After dinner I walked around a bit, this was an office park area not many stores. I did find a gas station and bought some pop, there were teenagers there socializing and behaving them selves, I also noticed bicycles parked and not locked. Helsinki seems very peaceful and friendly.
May 29, Saturday Day 17: Helsinki - Baltic Sea crossing to Sweden
Helsinki Town Square - Parliment - Finland
We have a wonderful continental breakfast before we go on city tour of Helsinki, we pick up our local guide at the Rail Station and we then visit the harbor, church, cybis monument and then we were loose to shop and have lunch, we had 3 hours and they picked us up at 4 PM so we could make our way to the ferry. Our ferry is the Sila Line Europa only 3 months old and the largest cruiser in Europe, we see a new bigger ship being built for Carnival. They have 4 berth cabins and us single guys get room 2229, I share this with Colins, Jason, and John. I take an upper bunk the cabin is very small but nice. As we left our cabin to explore our vessel we ran into a bunch of young teenagers in the hallway drinking beer, one girl was out in the hall with only a towel. This 14-15 year old kids were drinking and smoking in the hall and throwing up all over. They trashed the boat, the scratched the brass in the elevators ect. This was a nice ship when we started, this ship had 4 restaurants, 1 McDonnalds, 7 Bars including Karroke, Neon Disco, Truckers Bar ect. We did take our bus with us. This ship also had several duty free shops, a movie theater, and a Super Market. We were on the ship 12 hours and the time passed quickly, I enjoyed being on deck.
May 30, Sunday Day 18: Stockholm
We arrived in Stockholm in the morning, there were many Islands with cabins on them on the way into port. Evidently in Sweden most everyone has a cabin and leaves for the weekend. We had continental breakfast on the ship before arriving in Stockholm, We change timezones again and we are now GMT+2 (daylight time) we get into port 8:30AM UDT. We go on city tour and visit city hall first, It is an huge building with large halls including the main dinning room which has its walls done in 23 carat gold. We then left to see the Vasa ship. This was also spectacular in that it is so well preserved. It is now in a permanent museum. We also saw a church built into the granite hillside, Our guide also pointed out that the city has atomic fall out shelters everywhere that double as parking garages. She also pointed out that Sweden has not been to war for over 250 years. We then had time to shop and we arrived at our hotel at 3PM to find the rooms not ready. I went out for a 1 1/2 hour walk and when I got back the room was just ready, my roommate sat in the lobby waiting. I just walked around and found a cash machine and got some Kroner, I also went by many shops and Burger king. Most places were closed because this was a holiday. After checking out our hotel room we went down to an Irish Pub for a while, I left to get something to eat at McDonnalds.
May 31, Monday Day 19: Stockholm to Copenhagen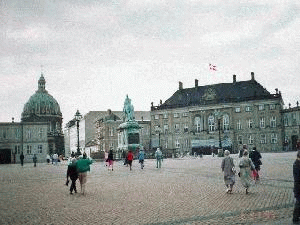 Copenhagen - Denmark
We leave Stockholm for Helsingborg and a ferry to Helsing0r Denmark. Our driver got us on the road very early and we found out why, we beat all the other busses to a midway lunch stop at Jonkoping and then we got on an early ferry. The scenery was quite rural after leaving Stockholm, Sweden is on a moraine of rock so it reminds you of Northern Minnesota. We pass a dragstrip by the town of Mjolby midway between Stockholm, Goteborg, and Malmo. Going farther south we started seeing more farms. We are the last vehicle on the ferry just behind a Swedish train. It takes 20 Min. to make the crossing and it was raining and blowing and it was the roughest ferry on the trip, We arrived in Denmark and proceed to our hotel Osterport in Copenhagen. We get to our hotel at 5PM. I took a short walk and visit the Little Mermaid which was quite near. I had a Burger and then went back to catch the city tour and a trip back to the Little Mermaid. We then went by the Merchants houses and Royal Palaces. The palaces were frame built with a masonry covering on the outside. We also stopped by many fountains. We returned the hotel and several people took off for downtown and Trvoit Gardens, I took a nap instead and I later walked downtown (it was only about a mile). Copenhagen is a bickers paradise in that they have their on section of the road, their own stop lights and bike racks all over. Anyway I walked downtown and through an area for pedestrians only. Most shops were closed because of the holiday and I continued through to the Amusement park. Admission was about $5 and I found most of our party there. after about an 1 1/2 hours we all left and took the subway (it actually does not run under ground) back to the hotel. Copenhagen is flat and just above the sea in contrast with Stockholm which is blasted out of the granite. Also Denmark is expensive with a VAT of 25%.
June 1, Tuesday Day 20: Copenhagen to Hamburg and Channel Crossing
We leave early again and head for Germany and our ferry. We reach our 1st ferry crossing taking us from Denmark to Germany, we park behind some Benzene trucks. It takes an hour to make the crossing and we stop briefly at customs before being waved through. We drive on the autobahn and come across someone whose car carrier opened up and left about 2 miles of clothes on the highway. We reach Hamburg early in the afternoon and we leave at 4:30PM. We did not have a city tour of Hamburg but we did see they were reconstructing several churches, Hamburg is very industrial. Our tour company messed up the cabins and our guide reorganized it. Us guys had the same arrangement as before, and most of the couples paired up (otherwise they put 4 married guys in one cabin and their wives in another). The ship is run by Scandinavian Seaways and is named the Hamburg. It is not as big and older than the previous ship we were on but the cabins were bigger and I got a lower bunk. The ferry takes 22 hours to make it to Harwich England, the seas are calm all the way and I of course have my Submarine outfit on until I hear the sonar when I has in my cabin, we were on the very lowest deck under sea level. We did not have any trouble with any teenagers and trip was peaceful. I went and saw a movie at one of the cinemas, it was called Under Siege which I had scene before. We arrived at Harwich at 1PM GMT+1 and we clear customs and head for our hotel.
June 2, Wednesday Day 21: Channel Crossing and London
After having breakfast and lunch We arrived at Harwich at 1PM GMT+1 and we clear customs and head for our hotel. It takes 2 hours to get into London, There are freeways around London but it is basically narrow windy road to get into the city proper. I reached my hotel at about 4PM and it was raining and thundering so I took a nap. I was staying in the New Barbican in a single room which was very nice. Later after the rain let up I went out for something to eat. I found a mideast place and had some chicken, I also watched a soccer game for a while and then I returned to the hotel.
June 3, Thursday Day 22: London to Minneapolis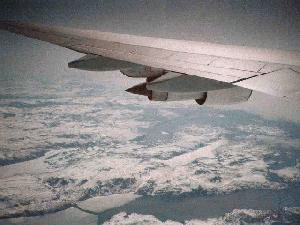 Ice Cape - Greenland
Got up at 6:00 bags out and breakfast at 6:15 leave for Gatwic airport at 6:45. We stopped at another hotel and picked up a bunch of people, we head for the airport and got to Gatwick South about 8:15. A lady escorted us to out ticket counter and I got checked in by 8:30. OK my plane does not leave until 12:00 so now what do I do, I went shopping at the stores there and I had a coke at a lunch counter. Later I took the Shuttle train to Gatwick north and shopped over there for a while, I returned to the south terminal about 11PM and I the went through security with about 100 coins in my bag which set of the alarm of course and security examined my bag by hand. Fortunately she looked at my can opener/key chain and did not figure out there was a knife inside. Anyway I took another tram to my gate and boarded the airplane about 11:15 AM. This 747 had more leg space then the 1st one. Anyway we took off following the reverse route we took getting there. We flew just south of Iceland and across Greenland's Icecap which I could see and then across Canada and Hudson Bay which was obscured by clouds and then across Lake Superior and over Lino Lakes. I watched a movie in flight. Home Alone 2 with audio in English and Japanese with subtitles in Chinese. It was daylight the whole way and I arrived in Minneapolis at 2:15 PM CDT. It took several min. to get off the plane, get my bags and check through customs. I then called my sister and she came and got me about 3 and took me home. Because of the time warp when I got home about 5 it was like 11PM to me and I did not go to bed until 10PM or 4AM London time, it was a long day.
Home: Except of my burglar alarm that went off and the kids down the street who got arrested for making bombs, not much happened.