::Title: Scandinavian / Russian Trip 1994 ::Author: Steve Engelhardt, steven_t_engelhardt ::
Scandinavian / Russian Trip 1994
Or Planes, Trains, and Automobiles along with Boats, Busses, Cable Cars Monorails, and Submarines.
All told I traveled on 8 Airplanes, 9 Boats, 11 Trains, 15 Busses, 5 Taxies 2 Cable Cars, 1 monorail. I traveled in 5 European Country's, Norway, Finland, Russia, Estonia, and The Netherlands.
Wednesday, May 25, 1994: Minneapolis to Amsterdam

Music from Norway - Edvard Grieg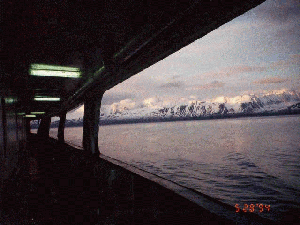 Lynsenfjord - Norway
I left for the airport at 12:15 after 1/2 work and lunch. I board an Airbus 320 for Chicago. It leaves at 13:45 and arrives in Chicago at 15:00. KLM is there to lead us through the Maze of Ohare airport. We end up taking a monorail to the International Terminal. I board the KLM flight at 15:50 and we leave at 16:30 on a 747-300, We are full. We fly over Lake Michigan, over Detroit and we follow the St. Lawrence Seaway. Our location, speed, temperature was displayed over overhead TV screens. We flew across the Atlantic at 35,000 feet at 700 MPH. The seats were not very comfortable. We got to watch a news program and a movie "Sisters like us".
Thursday, May 26, 1994: Amsterdam to Kirkenes Norway
We arrive in Amsterdam at 7:00. At 9:00 I board a KLM 737-300 for Oslo. We arrive in Oslo at 11:00 and we exit via roll up stairs, I go through Immigration and then take a SAS bus downtown. I walk down Karl Johans Gate and check out the street vendors and where my hotel is for later in the trip. I went to the Alker Fortress and the Resistance Museum. Took SAS bus back to airport at 13:45 and boarded an SAS MD80 at 15:00 for Kirkenes via Troms0. We arrive in Troms0 at 15:00. Troms0 has much snow on mountains and the trees have no leaves yet. We leave for Kirkenes and arrive at 18:30. Many frozen lakes and trees with no leaves. Took SAS bus into town about 7 miles, very rocky Arrive at Rica hotel at 19:00. I went for a walk downtown. I noticed green grass. I returned to hotel and got some sleep.
Friday, May 27, 1994: Hurtigruten
Wake up at 7:30 . It has snowed overnight a little. Had breakfast and ordered a cab to the Coastal Steamer, it is 1/2 hour late. Mean while I listen to a Russian Radio station at 170 kz long wave. Got on boat at 11:00 and had to wait for cabin. I registered for my table setting, I had the second sitting. Breakfast at 9:15, Lunch at 13:45 and Dinner at 19:45, This schedule changes quite a bit depending on tours and other reasons. I meet Paul and Judith for lunch (English and Australian) we had Cod Tongue, Lutefisk, and Octopus. We meet our tour guide and I am assigned Cabin 227 on the second deck. I have a window in my cabin, and next to a stairways to the 3rd deck and I am under the dinning room. I have a bed, a closet, sink, and a porthole. I toured the ship, There are 2 observation decks forward one smoking and one non smoking both enclosed. There are 2 observation decks to the rear both open. Many people left the ship at Kirkenes and only a few joined. We stop at Vads0 for 40 Min. and then continue to Vard0 where we have time for a walking tour to the fortress. It was built to deter the Russians. It is the coldest place on mainland Norway with a average July temperature of 48% . Snow squalls pass by at times. Back on board we have dinner which includes Reindeer. At 21:45 we have a tour meeting explaining our stops and tours, he also explains why Norway must continue to hunt whales. We stop briefly at Batsfjord.
Saturday, May 28,1994: Hurtigruten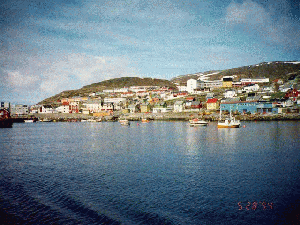 Hammerfest - Norway
We see the Midnight Sun at 00:04 and a North bound Steamer at 00:12 I went to bed. We round the most northern part of Norway at night and pass close to North Cape. At 9:45 we had breakfast and then we took a short walk in Hav0ysund, not much here. At 12:00 we arrive in Hammerfest population 9,000. It was totally destroyed during the War. We walk to church and then to Polar Bear Society and visited the museum. I then went shopping, we leave at 13:15. We had a great lunch with meatballs. We stop later at Ousfjord where we pickup a Wedding party of girls someone is getting Married) they had signs on there necks (one last party before getting Married). At 23:45 we arrive in Troms0.
Sunday, May 29,1994: Hurtigruten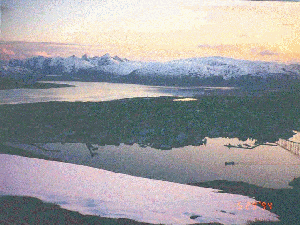 Troms0 - Norway
We had an excursion via Cable car overlooking Troms0. It is quite a view up here. We see the Midnight Sun again. The Sun is getting lower as we go south. The Wedding party gets off and goes into town, quite a lot of night life here, this is a University town. About 30,000 population. We leave at 01:30. While we were by the North Cape we managed to pick up a group of French people. So announcements are now in Norsk, English, German, and French. at 8:00 we stop in Harstad and pass another Steamer north bound, we will pass all other 10 Steamers on our way south. We stop at Ris0yhamn and Sortland in the morning and we then had lunch which include Salmon and Reindeer. We then stopped at Stokmarknes were we visited the Hurtigruten Museum. We then detour into Troll Fjord and we manage to squeeze by a small sailing ship. We had a local Lofoton band on board and they played many songs.
Monday, May 30, 1994: Hurtigruten
We stop at Bodo, Ornes, and Nesna during the night. We also pass the Arctic Circle and they have a Globe Marker on an island to mark the spot. In the morning we stop at Sandnessj0eno and I went shopping, everything is very expensive. I bought a fishing bag there. After we leave port we reach the 7 Sisters, it is rainy and cloudy. after lunch we stop at Br0nn0ysund for a few min. and visit a Fishing and Farming Museum complete with an NCR cash register. next we pass Torghatten (Hole in the Mountain) it is still cloudy but we can see the hole. Later we had a tour of the bridge and got to see how automated it was with Radar and Computerized Maps. The ship has 4 Watch officers and 2 Engine officers. They spend 12 hours on and 12 hours off and they do 2 trips in a row and have 2 trips off. The crew is 28 off season and 36 in the Summer. The seas become heavy and the night is unpleasant.
Tuesday, May 31, 1994: Hurtigruten
The seas calm after 01:30 and we continue to head for Trondheim. We arrive about 08:00 and I went on city tour which included going to high point and overlooking the town. We next visited the Nidarosdomen Cathedral which was very old and very dark. After we leave Trondheim we are again in open seas and it is rough again. Later we reach Kristiansund and because of extra cargo we will stay a little longer. They organized a walking tour to a modern church and an old ship yard and ship museum. We leave Apr. 1.5 hours behind schedule. I then have lunch. Our guide asks if anyone has a train connection in Bergen to Oslo because we will miss the connection. We are in heavy seas and dinner will be delayed due to bad weather. I missed dinner, It would have been hard to hold anything down anyway.
Wednesday, June 1 1994: Arrive Bergen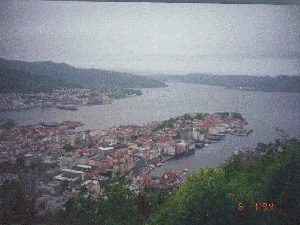 Bergen - Norway
The seas calm for a while and pickup again as we leave the shelter of small islands. During the night many people got sick. We are told to be out of our cabin by 11 AM. We arrive in Bergen at 15:30 instead of 14:00 as scheduled. I take a taxibus to Hotel Strand the driver does not drive slow with his articulated bus. My room as a view of the inside courtyard / loading dock and garbage dump. Since we got in late I can not go to any museums. I get cash from a cash machine and head for the Gallera shopping mall. The mall looks like a US mall and is full of Fashion stores and cowboy stores, It is hard to buy Norwegian here the stores are full of goods with US brands made in China. I then bought a ticket up the Fl0ibanen overlooking Bergen, the train broke down and they used the Cellular Telephone to have the ticket agent reset the breaker. I also went shopping along the Hanseatic Quay and bought some things. I also bought tickets for the Hydrofoil to Stavanger and the Norway in a Nutshell tour via Myrdal-Flam cog railroad.
Thursday, June 2 1994: Norway in a Nut Shell
At 07:00 I had breakfast and then cashed some travelers checks at 08:15 when the bank opened. I then went to the Rail Station and boarded the Bergen Myrdal train. On our journey eastward we go along fjords and then rivers, there are Salmon fish farms in the fjords. There are many waterfalls and it is pretty scenic. We gain altitude and are moving right along and on schedule when we suddenly stop, it seems we have sheep under the train. After we stop we has a lamb under our car. After we get this cleared and no sheep got hurt we continued on. We go through many tunnels with one of them over 5 miles long. We reach Myrdal and switch trains to the cog railroad. It is on a steep grade and we are on the brakes the whole way down. Our train is electric and we go through several tunnels on the way down including one we do a figure 8 in. We reach Fram and have lunch and then boarded a boat for Gudvangen. The trip through the Sognefjord was incredible with waterfalls coming down the vertical walls on all sides. We can see dozens of waterfalls at a time. I reach Gudvangen and catch an early bus to Voss. This is the wildest part of the trip driving up 1 lane twisty roads on a bus with no shoulder on the road. We stop at a hotel along the way and enjoy the view from there. We arrive at Voss and catch the train to Bergen at 17:22. I arrive in Bergen at 16:30, there are 11 trains going each way between Bergen and Oslo on single track! One gentleman is very unhappy because after Myrdal he got on the train to Bergen instead of Oslo. I did some more shopping and then back to hotel.
Friday, June 3, 1994: Stavanger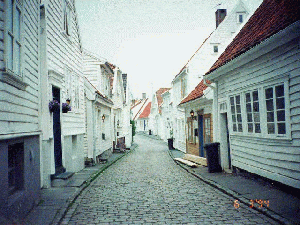 Stavanger - Norway
Breakfast at 07:00 and catch Hydrofoil at 08:00 to Stavanger. It is foggy on the way but the ride is very smooth. It runs at about 36 knots or about 55 MPH. This boat has 243 seats and dual 2775 HP motors. We are only about 1/4 full. Coming into Stavanger 4 hours later I see much heavy construction. Stavanger is the Oil capital of Norway. I walk 1/4 mile to Hotel Havel and I am assigned room 303. I went out on the town a little later, the town is full of stores on windy cobble stone streets. I visited the Maritime museum which had many interesting display's including an old country store complete with NCR cash register. I went down by the harbor and then to Old Stavanger which is well preserved. I also went past market square and down to the commercial area of town.
Saturday, June 4, 1994: Stavanger to Oslo
It war rainy in the morning but I go over to Old Stavanger again and market sq. I go to the railroad station and the train leaves for Oslo at 12:06. As we go south there are many farms with stone fences, this is one of the few farming areas in the country as only 3% of the land is usable. People take there pet's with them when they travel, there is a little dog next to me as a matter of fact. I have seen pets on boats bus's and trains. We get near the ocean for a while and see several camp sites. The land is all granite. Our train has an engine, a baggage car, 2 first class cars, a combo playroom/coach car, 2 smoking cars and 2 non smoking coach cars. They have a cart that goes through once an hour selling drinks and sandwiches. The train takes about 8 hours to travel the 400 km to Oslo, I arrive at about 22:00. I walk to hotel and later walk around downtown where it is very lively and people are having a good time. There is a guy doing Paul Simon imitations until a wedding party of girls with the bride pounding a drum marches through.
Sunday, June 5, 1994: Oslo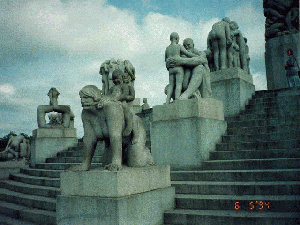 Vigeland Sculture Garden - Oslo - Norway
I bought an Oslo card at the hotel which gives me free access to local transportation and museums. I take city bus to Vigeland Sculpture park where over 600 statues are on display all created by one man. After spending an hour there, I walked several blocks and took a bus to Bygd0y Island where several museums are located at. I first went the Folk Museum where many old buildings are preserved. This includes Farm houses, Warehouses, Stables, and a Stave Church. They also had an Soumi exhibit. I then walked down to the Viking Ship Museum Where I meet some fellow passengers that were on the Lofoton. It turns out they will also be on the Simorov to St. Petersburg. They had several old Viking ships on display that were used as funeral ships. I next walked down to the Polar Museum which houses the Arctic Exploring ship Flam. This ship built in the 1890 is in find shape and you can walk on board and also look at many displays, this is a excellent museum. I walked across the street to the Kon Tiki museum where they have the Kon Tiki and RA II on display. I then took the bus back downtown and visited the Arm Forces museum located in Akershus fortress. I went back to the hotel and then went to the Underground station to see if I could make it to the Holmenkollen Ski Jump while the observation deck was still open. Even though it is called the Underground it is above ground outside of downtown, it looks like a regular railroad track. They do not have a conductor, it is on the honor system, evidently the have inspectors and you will bet a huge fine if you do not have a ticket. I made it to the Ski jump to find that they are open 1 hour later then I thought. I took the elevator to the top and had a good view of Oslo. I then returned to the hotel.
Monday, June 6, 1994: Oslo to Helsinki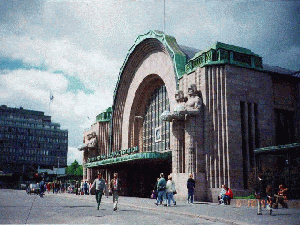 Helsinki - Train Station - Finland
After breakfast I take the SAS bus to the airport. My plane leaves at 9 AM and arrives at Helsinki at 11:15 with 1 hour lost on time zone change. I could see the gulf of Finland during the flight. I take a Finnair bus downtown to the rail station where I store my luggage in a locker. I walked down to market sq. and over to marine terminal where I found out that the ship was delayed. I then took a excursion trip around the harbor that went around many of the islands and ships in the harbor. When we returned my cruise ship Simonov was in port. I walked back to the rail station about 1/2 mile got my bags and took a cab back to the terminal. At 16:00 I get in line and by 17:00 I am on board after going through passport check . They have a steward show me my cabin #2721. The ship was built in Poland about 1982. I have a 4 bunk cabin to myself. There is a meeting in English at 17:30 about our excursions in Club Madonna. The ship leaves at 17:30 also. Dinner is at 18:00 and I had to pay for water. I went down to the Duty free store and bought some water for the trip. Late I purchase 2 tours in St. Petersburg and watch a show our Russian crew is putting on in Club Palace. About 23:00 I go on deck and the sea is absolutely calm and the sun is setting and there are ships and islands, it is beautiful.
Tuesday, June 7, 1994: St Petersberg Russia

Music from Russia - GOSTYAH U RODINY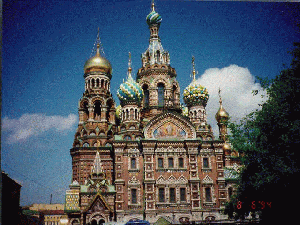 Church of the Resurrection - St Petersberg
We arrive at 9 AM but it takes a long time to get through immigration. They look up everyone in a book. I took a cab downtown to the Battle Ship Aurora, it cost $7. I exchanged some dollars for rubles and I buy some military stuff. It is raining and it continues to rain all day long, I am told they only have 40 clear days a year. I went on board the Aurora evidently when the ticket man was not around. They several displays below deck with many old pictures. There were many new navy personnel on board, evidently new recruits including some women who would work only on shore. I next walked over to the Peter and Paul Fortress and I toured the Church and the Dungeons, they even shut off the lights for me in the Dungeon. In the Dungeon it was dirty and dark and they had plaques of prisoners who were torched in the cells. In the Cathedral are the casks where most of the czars are buried. I walked across the bridge and to the naval museum to find it closed. I crossed over to the mainland and continued down Nevsky Prospect. The car traffic was terrible, I am glad I am walking. I check out the stores along Nevsky Prospect. I stop at the Church of the Resurrection and take some pictures. They are working on restoring it, they are doing a lot of work trying to clean things up for the Goodwill games. The Russian museum was closed so I took a cab for $7 back to the ship at 17:30. I quickly ate lunch and was out to the folklore show at 18:15. The Folklore show was excellent they were very athletic and graceful. We arrive back at the ship at 22:00. When we come and go we go through immigration each time, it does not take long now.
Wednesday, June 8, 1994: St Petersberg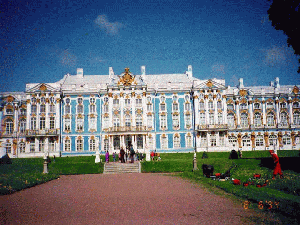 Puskin Palace - St Petersberg
At 09:15 we leave via bus for Pavlovsk Palace. On the way out of town we pass Monument "Heroes to the Defense of Leningrad" next we make an unscheduled stop at "Pushkin" officially known as Tsarskoe Selo or Czars Village. It is very beautiful, on our bus we had a French group who wanted to tour the garden, I went along. Next we continue to Pavlovsk Palace a few miles south. It much more reserved on the outside but still very beautiful on the inside, the whole palace has parka floors and most of the furniture and paintings are French. This palace was completely destroyed during W.W.II and rebuilt, many of the original furnishings we saved and restored. The ceiling were very unusual you could not tell where the molding stops and the painting begins, the ceilings give an illusion of height. Catherine the great would by entire collections from artists in French and have them brought in and displayed. We then had lunch in the park and then we continued on to Yusupov Palace located in the center of Ts Petersburg. The palace does not stand out from the outside but is very beautiful on the inside. It was owned by the richest family in Russia before the revolution of 1917. This palace has many fine rooms including a concert hall and a private theater, it very nice. The big deal about this palace was the murder of Grigory Rasputin which occurred in the basement. Evidently Rasputin a common man had became a cleric and had great influence on the czars that the Yusupov family wanted to stop so the poisoned him, this did not kill him so they shot him 5 times and he still did not die so they threw him into the river under the ice and he finally died of drowning. We also stopped by the church of the Resurrection again on the way back to the ship, We also go past a submarine that is docked in the center of the city, I believe it to be a Victor II type. Traffic was very bad and drivers were very unfriendly. The weather today was very nice with blue sky's all day. On all of our bus trips we have a guide, a driver, and a security guard. We get back to boat at 17:30 and I then visited the Commodore a hotel boat and I cash 2 travelers checks, I return to our ship and since I have nothing planned it should be a peaceful evening. Suddenly two tickets to the circus become available and I buy one of them at 18:00. I have to eat dinner and then go to the bus at 18:15. When we get there we find it only about 1/3 full. Evidently now only foreigners and rich Russians can afford to go to the circus, when I went to buy an ice cream bar only foreign brands were there, I had an bounty. The show was full of animal acts and was rather short, It was very similar to the Moscow Circus I saw last year and there were 2 acts I recognized from that circus. The gentleman next to me was a chiropractor and he liked the lady contortionist. The Circus was not as good as the Moscow Circus but every one from the ship liked it.
Wednesday, June 8, 1994: Continued
We return to the ship at 21:30 and prepare to leave at 00:00, we are required to be on board at 23:00 however. While in the Palace Club I run into my doctor friend again and I told him of my stop at the Commodore Hotel and that I had seen call girls over there, he was ready to go over there even though it was 22:20. Since there wasn't time, he told me about the topless club he had stopped at.
Thursday, June 9, 1994: St Petersberg to Helsinki to Tallin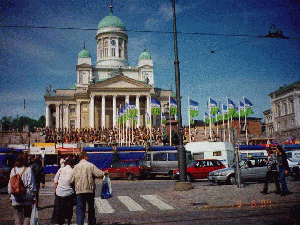 Parliment - Helsinki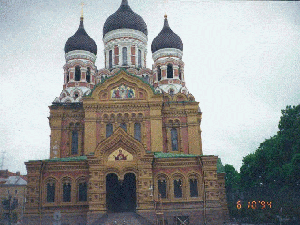 Alexander Nevsky Church - Tallin - Estonia
At 00:00 we leave St. Petersburg and proceed down the channel past many ships at anchor. There are many cranes and steel works in the harbor. It does not seem busy however and most ships look run down and rusty. We pass two Cosmonaut tracking ships on the way out. At 02:00 we pass by the fortress island of Kronstad. There are 2 levee built out to the Island from shore with only one channel open for ships to pass through. Evidently the Baltic is shallow and we had to follow markers a long way out of St. Petersburg. At Kronstad island we pass a Submarine base with about 8 Nuclear and 2 Diesel Submarines, It is dark at this time but I can make them out. I then retired to my cabin for the night. At 12:00 the next day I can see Helsinki, evidently we stay in the middle of the Baltic and then 90% into the channel to port. At 09:00 the next day they open the Duty Free shop on board, all the Finnish passengers made a mad dash to buy liquor, over 60% of the passengers are Finnish. We arrive at 15:00 or 14:00 Helsinki time. Leaving the ship takes a long time and we have to go through immigration and customs. They stop a Finnish man and find his suitcase full of liquor, I go right through. I carry my luggage and try to find a locker at the terminal, since they are all in use I have to go to another terminal and lock my luggage there. I then proceed to market sq. and take a boat to Suomenlinna Island where I visit several museums and the Finish Submarine Vesikko. The submarine is very small and was built in 1933, with a crew of 20 men and 2 officers. Finland is no longer allowed to have submarines per 1947 treaty. I went back to market sq. via ferry and I proceeded to the marine terminal where I bought a ticket to Tallinn Estonia which takes about 90 min. via hydrofoil, we leave at 18:00 and arrive at 19:30. When I get there I need to find a place to stay, so I ask and they say Shuttle to Hotel Viru, so I ask is this inexpensive hotel yes they say, hell this is the most expensive hotel in town, since I don't know my why around I check in anyway. I am on the 16th floor of this 22 story hotel owned and operated by Finnish business men. I take a walk across the street and buy a special hamburger ( It had 1/3 LB hamburger, mayonnaise, and an egg) with a coke for about 50 cents. Next I walk to Old Town and go by the Castle and the Churches there. It is very old and still original. I end up lost so a take a cab for $2 back to hotel.
Friday, June 10, 1994: Tallin Estonia to Helsinki to Amsterdam
Friday morning I get up and watch the Stanley Cup on TV. I then had breakfast and I headed for Old Town again which starts only about 4 blocks from the hotel. There are an incredible number of taxi cabs all waiting to give someone a ride. Tallinn reminds me of how Russia use to be like, things look old and there are very few modern things in town but everything seems in better shape and well maintained here I notice the Kiosk's have a lot of cheap German toys and not Russian ones. I climb the hill to old town and I visited Alexander Nevsky Cathedral and I walk around the old castle. I return to the hotel and check out at 10:40 and take the bus at 11:15 to the hydrofoil and then back to Helsinki. The seas were rough on the way back but it only takes 90 min. at 34 knots or about 40 mph. When I get back to Helsinki I get my bags out of the locker and take a cab to the train station where I then board a local bus for the airport. The plane to Amsterdam leaves at 16:40 and arrives at 18:00 after gaining an hour. I talked to a retired State department agent who had just spent 60 days in St. Petersburg with a family, our flight had started in St. Petersburg and then stopped it Helsinki on the way to Amsterdam. I find out at Schiphol Airport that my plane to Boston has been changed to a 747 leaving 4 hours later than planned, I have to change my flight in Boston because of this. I leave my luggage at the airport, I should have checked it all the way to Boston. I take the train to downtown and stop at GWK which handles referrals for hotels, they send me to Amstel Botel about 3 blocks away. It is a Ship that is permanently anchored. Later about 23:00 after it stopped raining I took a short walk downtown.
Saturday, June 11, 1994: Amsterdam to Minneapolis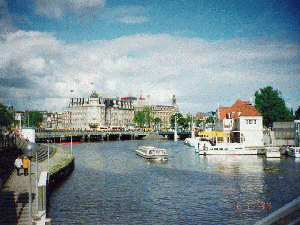 Amsterdam Canal
In the morning after breakfast I wonder around town trying to get my Estonian Kroon changed into something I can use, no luck. I also took a canal boat trip which was enjoyable. At 11:55 I took the train back to the airport and got in line 16A for NW security check, since I had left my bag at the baggage check in I may have bombs in it so I have to take everything apart. I then cut my thumb because I had secured my bag with tie wraps and cut myself with a knife. Later I was searched getting on the plane. The plane ride on a 747 to Boston was not to bad an we made it into Logan just fine. The connection to MSP is out 80 min. which goes by pretty quickly. We are flying an Airbus 320 again and the electronics are on the fritz as half of the TV sets that drop from the ceiling do not work. As we approach MSP I use the airphone to call Owen for a ride, It cost $8 for this. Well I made it home.