!::Title: South Pacific trip report ::Author: Steve Engelhardt, steven_t_engelhardt ::> <!

<!BODY BGCOLOR=#F5FFF5>
Trip Report 10/17/96 - 11/8/96 South Pacific Australia, New Zealand, and Fiji
Thursday October 17, Day 1: Trying to get to LA
After a Full Day of work I left for the airport at 4 PM. Boarded TWA Flight 199k for St. Louis . We left 1 hour late at 6:45 PM. due to bad weather in St. Louis, I arrived at 8 PM trying to catch an 8 PM flight. Not to worry it did not leave until 2 AM! The airport was a mass of Humanity - It had been shutdown twice do to thunder-storms.
Friday October 18, Day 2: Flight to Sydney
Needless to say I was a little late into LA instead of 10:30 PM I got there at 4:15 AM so now what do I do? I called Motel 6 on the phone and they were going to send a shuttle over at 5 AM but It did not show. LAX is sure quite kind of spooky at 5 AM. I took the Airport C bus to the Bus terminal and I then took the Blue San Monica bus to Pico and walked to San Monica Beech. I walked several miles along the beech and then back to Lincoln Blvd. where I took the bus back to LAX, The beach was deserted very few people. At 10:45 I entered Tom Bradley International terminal and got in line at Qantas. After making it through security and to the gate I boarded the 747-400 at 12:45. We were 1 hr late leaving at 2 PM. This is going to be a long flight, a total of 14 hours. We had 3 in-flight movies Eraser, The Rock, and I forgot the last one. Service was great and as usual I hunker down for the duration. At Sydney's Kingsford Smith Airport we departed the airplane and I made my way through customs and meet our tour guide Donna, it is 10 PM Saturday someplace I lost a day. We take our coach to our hotel. There are 31 on our tour and we all made it this far. Our hotel is the Manhattan and we are not far from Kings Cross a lively part of town. I meet my roommate Larry who is from Indiana.
Saturday October 19, Day 3: A Day lost Forever
Someplace across the Pacific we misplaced Saturday.
Sunday October 20, Day 4: Sydney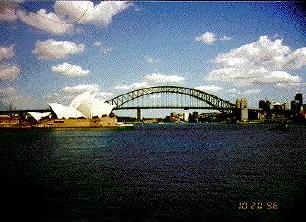 Australia - Sydney Opera House
It was sure nice to have a soft bed to sleep in last night. Me and Larry made it down to buffet breakfast at 7 AM. We go for a sort walk in the area before getting briefed by our guide. Since there is no scheduled or optional tours several of us took a cab to Paddy's market to shop. We had lunch in Chinatown and I took off on my own and made went through the Chinese Garden. Next I went to Darling Harbor where I went through the Maritime Museum and toured the Russian FoxTrot Submarine that was cool. I than took the Monorail on a circular tour and got off at Parkpoint. I made it to a train station and rode the subway to Town Center where I transferred and got off at Kings Cross where I got some wonderful ice cream and made it back to the hotel.
Monday October 21, Day 5: Sydney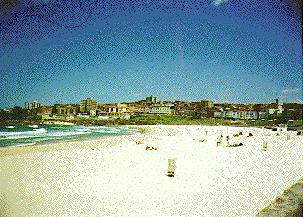 Australia - Sydney Bondi Beach
Had good continental breakfast in morning, Later took Cosmos city tour. We made stops at Mrs. Macquarie's Chair, across from Opera House next we went down to the "Rocks, Double Bay, The Gap, and we went to Bondi Beach with its incredible surf. We then made a stop at an Opal factory or should I say store, anyway we then made it down to Circular Quay and boarded our Coffee Cruise though Sydney harbor. Returning, several of us stayed down by the rocks for a while and later returned via train to Kings Cross and a short walk to our hotel.
Tuesday October 22, Day 6: Sydney, Blue Mountains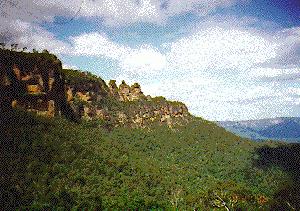 Australia - Blue Mountains, 3 Sisters
After breakfast Larry and myself boarded a bus for an all day excursion to the Blue Mountains, most every one else took the Hawksbury River excursion but again I just don't feel like eating so much. We head west out of the city and we stop at a small town of Windsor. It is a town that cater to tourist but it is still very nice, we stop at the Post Office for stamps. Our next stop is in the town of Katoomba for lunch and of course shopping. We next stop at echo point to view the 3 sisters and then Larry and myself took the Miners train down the side of the mountain and back again, it was pretty steep at 53%. We then started our return to Sydney stopping at the Australia's Wonderland park where we got to cuddle a Kola and see many native animals including Emu's, Crocodile, and Kangaroo's. After returning to the hotel I head out for the Hard Rock Cafe and a tee shirt.
Wednesday October 23, Day 7: Canberra - Melbourne
Leave hotel at 8:30 AM for Canberra. It is amazing how polite the drivers are on the road, they don't seem to speed or run red lights. This could be due to the "Speed Camera's" and the "Red Light Cameras" however. The land looks a little dry and it is amazing how may different plants, flowers, and tree's there are, all this of course is due to the natural plans and the imported plants that were brought in. We pass lake George and later make it into Canterbury and we stopped at Parliament house for lunch. After a stop at the Australian War Museum we head for the airport and a 1 hour flight to Melbourne. We arrive about 7 PM and take a coach to our hotel which is in the center of downtown.
Thursday October 24, Day 8: Melbourne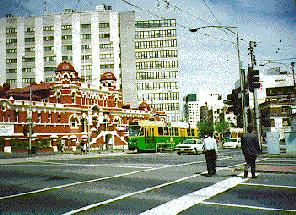 Australia - Melbourne Victoria Market
I take the optional City tour which included stops at Fitzroy Gardens and the Royal Botanical Gardens both were spectacular, since it is Spring the flowers were in bloom. Our tour ran late because one couple returned 15 min. late, If you are late leave them behind I say. That left me little time for shopping so I took off walking to the Hard Rock Cafe and then to Victoria Market where I did a bit of shopping and returned via Tram to the hotel where we caught our coach for the Penguin parade. This is quite a way out of town and we leave at 3 PM so we can be there before sunset. When we reach Philip Island we go to the observation area where there are already many coaches and sure enough at sunset many Fairy Penguins come out of the Ocean and head up the brush to their borrow. We at the peak of mating season so there are plenty of little penguins. We return late to our hotel.
Friday October 25, Day 9: Melbourne - Alice Springs - Ayer's Rock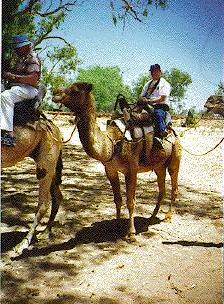 Australia - Camel Ride Alice Springs
Bags out at 5:15 AM and Bus leaves at 6 AM that was a short nap. Our plane or Alice leaves at 7:30 AM. We stop at Adelaide for 1/2 hour. They make us depart the plane, some of us think they just want us to go through their gift shop, I think they want us off because of refueling. After leaving Adelaide the ground turns into desert with many dried up river beds and barren reddish ground. After we land in Alice 5 of us are off to the camel ranch with the rest shopping in downtown. We ride our camels for about an hour down the mighty Todd river. The temperature was about 85F so not too hot. We go past an Aborigines encampment. This afternoon we leave for Ayer's rock via coach, we make one stop on the way. Overall Australia is a very clean country so it is a surprise that the road to Ayer's rock is cluttered with garbage. The outback is pretty desolate with a few plants surviving best they can our bus driver tells us that some of the tree's are several hundred years old. We make it to Ayer's rock just before sunset at 7 PM so we go directly to the official viewing area. We get to see the rock change colors as the sunset's. We also watch the Ogla's as the sunsets behind them. We then go to our hotel the Outback Travel Lodge where we settle in for the night.
Saturday October 26, Day 10: Ayer's Rock
Australia - Ayers Rock, The Climb
I am the only one to try and climb the rock. I almost overslept because I mis-programmed the alarm clock. I take the bus to the base and proceed to to start climbing. The Aborigines people do not want people climbing the Rock but is open for climbing so I give it a try. It is very steep and I there is a chain up the beginning the steepest part. I make it up a a ways when it starts to rain so I stop for a while, I start up again and it rains again, after it dries up I start again when the wind starts up and a I can here a thunderstorm in the distance. Obviously this is sign so head back down. I had made it 3/4 way up the chain so I did OK especially since I am afraid of hight's. After getting back to the base I took a walking tour and listened to the Park Ranger give a talk about the rock and the Aborigines. The Aborigines have a very unique culture, very different from any other culture I know of. I would have expected it to be similar to American Indian but its much different. There were many cave paintings to see and many cave's are very sacred and only Aborigines can enter, they are further segregated between Men's and Women's caves. Just before boarding the bus I see a park ranger escorting an heavy set lady with a cane and 2 little children from the Rock, this was very foolish and dangerous on her part. The climb in place is over 51%. I return to hotel at 10:00 AM. Myself and Larry take the circular shuttle bus to the shopping center, yes in the absolute middle of nowhere there is a shopping center. I buy a hat with a net on it as the little sand-flies are a real nuisance. We return to the hotel to go on a bus tour of the Rock and the Oglas. The Oglas are also very impressive and we stop for a short while. We next stopped at Ulura and visit more caves and the watering hole. The Park Rangers tell us more about the Aborigines and there DreamTime and how they are born with a certain "Totem" or identity which may be some animal such as a lizard, or Kangaroo. After returning to the hotel myself and Larry take the shuttle bus to the Amphitheater and the "Nukanya Dreaming" theater production based on Aborigines dances, it was very well produced most of the rest of the group took the optional Outback Bush BBQ which I here got very lively.
Sunday October 27, Day 11: Ayer's Rock to Cairns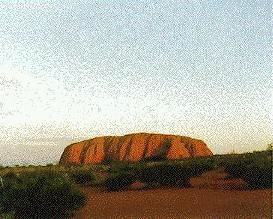 Australia - Ayer's Rock --Uluru
In the morning after putting our bags out we have our breakfast and then take a bus to the Aborigines cultural center where we get to see a movie and look at the exhibits. It is interesting that Aborigines that have died are covered up in pictures that are on the wall. As a general rule they do not want there picture taken and are not interested in interacting with non Aborigines. After having lunch we had pretty well killed the morning and we were off to the airport for our flight to Cairns All of the airports in Australia are very modern and clean, however it is interesting that some of the cities we have been at have over 3 million population their airports are very small to what you would find in the US. On this flight we get to fly in an British BA146-200 plane, it has the wing on top and the engines hang below. The luggage compartments are small and it seems to need a lot of runway to land or takeoff. The plane flew back to Alice Springs for a stop and this time we could stay on the plane but the stewardess made us unbuckle our seatbelts and they checked and made sure they were undone and they opened all the doors opposite where the fueling was being done. After an 1/2 hour stop in Alice we are on our way to Cairns. It is very desolate all the way until we get close to Cairns. After we arrive we greet our new driver who takes us to our hotel. The Hotel is nice but it is 6 miles from downtown and they don't operate a shuttle bus in the evening. This makes us feel captive to the hotel stores and restaurant. So instead of staying at the hotel we walk about 1/3 mile to a small shopping center. Most of the stores are closed but we did find a small cafe which served us a tasty meat pie. On the way back to our hotel we ran across one of the scourges of Cairns and that is big Toads that are all over.
Monday October 28, Day 12: Cairns - Great Barrier Reef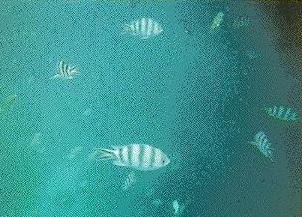 Australia - Great Barrier Reef
After breakfast we get on our bus for the short trip downtown where we board our cruise ship and head out. Our first stop is Fitzroy Island where of course there are gift shops and ice cream parlor. I went on a short guided nature walk with a ranger where he talked about native medicine. later I walked down to the nudie beech, there we lots of other tourist there but no naked people. We then left for the permanent platform that sits over part of the reef.. There is a lot to do here including Snorkeling, Skin diving, and a glass bottom boat. The also had a viewing port right on the platform. But first we had lunch. I then picked out some snorkeling equipment and gave it a try, I stayed close to the boat because I am not an accomplished swimmer. There are many corals and fishes to see. I am amazed by so many different varieties of coral. I also took a trip in the glass bottom boat they had and that was also excellent. At 3:30 we leave the reef and return to shore. That evening we go down to reception looking for a cab downtown and our tour guide gets us a lift on the hotel shuttle which is going to the train station anyway. We are looking for someplace to eat but all of the menus at the restaurant are very expensive so we stop at a small shop and have Kabob's. We meet several other people from our group and we proceed to the "Night Market" just down the street. After buying a few tee shirts My roommate Larry wants to stop at the Casino so we check it out and I try $1 on a slot machine and manage to win it back, success! We take the shuttle back to the hotel.
Tuesday October 29, Day 13: Cairns - Brisbane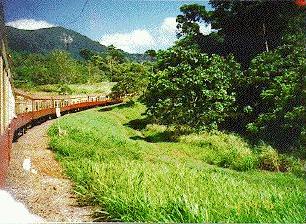 Australia - Kuranda Train
Today I signed up for the train excursion to Kuranda. We ride in old restored coaches, we leave the city through cane fields and then slowly we start gaining altitude as we proceed up into the mountains. The scenery is spectacular as we wind back and forth through the brush and rain forest. We eventually reach the train station at Kuranda and our coach is waiting to take us to downtown for more shopping and lunch. Karanda these days is basically a tourist stop. Our coach next takes us to Tjabiki theater where we get to watch a movie about how the "Foreigners destroyed much of the Aborigines society", also they had out door exhibits and finally we attended the Aborigines Dance Theater. The train and Tjabiki were excellent. After that we proceed to the airport and our flight to Brisbane. Because Australia is such a large place it is necessary to fly between destinations. We arrive in Brisbane and take another coach to our hotel. When we get to our hotel at 6 PM there is lightning to the south and later it decides to rain. Me and Larry eventually find something to eat and we meet Kate who is from Canada who wants to spend her last Australian 5$ in the slot machines at the Casino .
Wendsday October 30, Day 14: Brisbane to Christchurch New Zealand
We leave early in the morning for our flight to New Zealand. For this flight we board a 747-200 and leave Australia for New Zealand. We fly over the Tasman Sea and land in Christchurch NZ. We take a coach to our hotel and settle in. We are all in the same area of the hotel and our patios/balconies face a beautiful flower garden. Our hotel is about 1 mile from downtown. Larry and myself walk toward downtown and stop at the Casino, they wont let us in because we are in blue jeans. Personally I could care less about stopping at another Casino. Christchurch is called the garden city and also a little bit of England both terms describe Christchurch very well, there are beautiful gardens everywhere. After having something to eat we return to our hotel.
Thursday October 31, Day 15: Christchurch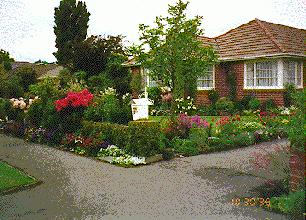 New Zealand - Christchurch Home Garden
After breakfast myself and Larry walk downtown to catch the shuttle to the Gondola ride. When we got there we found that the first shuttle was an hour later so we got on the Historic Tram and rode around downtown for a while. We then took the shuttle bus to the Gondola ride and from the top we could see Littleton harbor, Christchurch and lots of sheep. This afternoon we go on the city site seeing trip with the rest of our group. We stop downtown for some shopping and visit a museum. When driving around we see that everyone has garden in there front yard. Later they drop me off downtown and I catch the airport shuttle to the International Antarctic Center where I visited the museum which was very good. I took the bus back downtown and walked back to the hotel.
Friday November 1, Day 16: Christchurch - Queenstown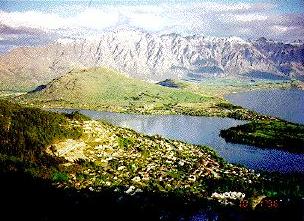 New Zealand - Queenstown
Today we spend the whole day on our coach, at 8 AM we leave in route for Queenstown. Shortly after leaving Christchurch and traveling down the Canterbury valley we can see the Mountains to the west, we also see lots of sheep. It had snowed in the mountains the night before so the scenery is spectacular. We stop at a place called the Tin Shed which is basically what it is where locals have there woolen goods sold, since I am allergic to wool I instead check out the assortment of farm animals they have. This includes chickens, turkeys, and peacocks. Continuing down the road we stop at Lake Tekapo and had a view of Mt. Cook in the distance. We also have lunch and continue on our way. It seems that the New Zealanders have harness all of the rivers they can from the mountains for there Electrical power. Just before reaching Queenstown we stop at Hacket Bungie and watch a young lady jump, some people call this fun - but not for me. We arrive at our hotel A-Line hotel, what a view! Myself and Larry catch the shuttle downtown and look and shop a bit. Everyone had signed up for the Gondola/Kiwi Magic Movie/Dinner and we all enjoyed it, the is spectacular and we watch the sunset from on top of the mountain..
Saturday, November 2 Day 17: Milford Sound
Several of us have signed up for the full day excursion to Milford Sound. We leave early in the morning and stop at Te Anau for lunch. When we reach Milford we board our boat and make our way toward the Tasman Sea. This is very much like Norwegian Fjords with straight vertical drops and waterfalls. We shop shortly to look at some Penguins and later some seals. We reach the Sea and return to the dock. We then have to make the long trip back to Queenstown. Just a little ways from Milford we pass through a tunnel and enter an avalanche area, looking up the mountains we can see glaciers hanging on the sides of the mountains. After returning to Queenstown we had dinner at Winnebago's.
Sunday, November 3 Day 18: Queenstown - Rotoroua
At 9 AM we leave the South Island for Rotoroua in the North. We stop shortly at Christchurch before flying onto the Rotoroua. After arrival we meet our new driver/bus and he takes us to our hotel. We are a little ways from downtown (about a mile) and there is no shuttle or bus so we walk anyway. It is Sunday so most stores are closed. Well I did find an ice-cream parlor open and we visited the black swans at the lake. We also wondered into a neighborhood and noticed the local Moraie people doing laundry in the hot springs. There is a sulfur smell just about everywhere in this town. After returning we sign up for the Hangie Concert and I got invited on stage for some dancing.
Monday, November 4 Day 19: Rotoroua
Today we make the 1/2 mile trip to Whakarewarewa Thermal Reserve. We stop and have our group picture taken, next we are taken in to the Culture center where we watch Maori craftsman practice their wood carving. We then made our way to the thermal area and saw several mud pots and Geysers. Next on an optional tour we go to the Agrodome and checkout the sheep shearing and sheep dogs. We next stop at Skyline Skyrides and take the gondola to the top where we had lunch and then we had the opportunity to make several trips on the Luge ride, it was a great! Next stop was Rainbow Springs Wildlife Sanctuary, and we stopped to see a Kiwi and also all of the rainbow trout they had. We returned to the hotel and later had a meat pie at Georgie Pie a fast-food place.
Tuesday, November 5 Day 20: Rototoua - Auckland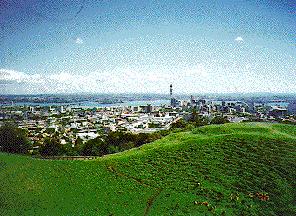 New Zealand - Auckland - Mt Eden
We get up very early today for our trip to Auckland. We make a stop at Waitomo Caves to see the Glow Worms. We understand now why we got up so early, we were the first ones there. We get to ride a boat through the cave and see the glow worms on the roof. The worms put out a line and use their glow to attract flies which get trapped on the string. We continue on our way to Auckland and stop at Mt. Eden where we get a good view of the city from an extinct volcano. Our bus driver told us a story about high school students who set fire to old tires in the cone, this must have excited a few people. We finally reach our hotel, the White Heron. It is about 8 blocks to Parnell St. and there is no shuttle. We walk to Parnell St. which is where many restaurants are located, especially expensive ones. We found a cheaper place and had some Gyro's.
Wednesday, November 6 Day 21: Auckland NZ - Fiji
I have signed up for the City Tour which leaves in the morning. We make a stop at Mt. Eden again, We also drive through some fancy neighborhoods. We stop at the Auckland Museum which would have been interesting except half of it was close due to construction. Finally we stop at Kelly Tarltons Underwater World which has been copied world wide. The first part was the Antarctic Encounter the second part was the Underwater World where you walk through Plexiglas tunnels and watch the fishes swim around and over. This was very well done. After that we went back downtown where I got on the harbor cruise ship. This was a pretty poor cruise, it was just a ferry where we picked up people at several stops. I also got a sunburn from this trip, we have been warned about how intense the sun can be and that we should wear sunscreen. In the evening we leave New Zealand via Air Pacific 747 for Fiji. We were all seated together and for some reason a pillow fight broke out, it was a jolly good time I thought. However another tour group also on the plane (from England) found it disgusting. Every time Donna our tour guide tried to retaliate a stewardess would come by. Our trip went by quickly, and after landing we reach our hotel at 11 PM. It is a nice hotel unfortunately it is at the end of the runaway and not on the beech.
Thursday November 7, Day 22 Fiji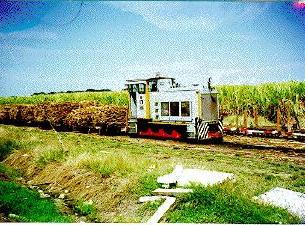 Fiji - Cane Train
We check out of our hotel, We make a stop in Downtown Nadi, at Jacks. Jacks is tourist trap store, but since a lot of people want souvenir we make a stop and yes I buy a lot of shirts and other trinkets. We get back on our bus and it is a 2 hour trip to the resort. We pass through the town of Sigatoka and go over a 1 lane bridge, from there it is still 1/2 hour to the Naviti Resort. This resort was substituted late and it is very nice. We can walk directly from our room to the ocean. There is a sand beach and down a ways there is Coral reef. There are several places to eat and shop along with sail boats, canoes, snorkeling and many other activities. Most of us just plane want to take it easy for a while.
Friday November 8, Day 23: Fiji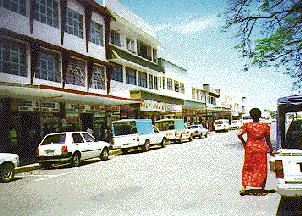 Fiji - Downtown Lautoka
I have signed up for the Lautoka tour along with several others. Our first stop is back in Nadi where we stop at Jack's again. I go down the street a ways and check out some of the other stores. I ate at a place across the street from Jacks and notice how the Taxi drivers steer people into Jack's and of course getting a commission. Many of these tourist walk out the other side of the store and go looking else where. Next we stop at the Sleeping Giant Orchid Garden which was founded by the late Raymond Burr in 1977. The garden is very well kept and the flowers are brilliant. We stop next at Viseisei village and tour it. There is a church and the chief's residence in the middle. We then drive to Lautoka and stop at the fruit and fish market to shop. I buy some bananas, they are very sweet. The city is almost entirely of people of India decent. On our way back to the hotel we drove our local tour guide wacky by our jokes and singing. We even put him up to calling on the radio and getting him to call Donna at the resort and have us meet our bus when we returned. We did have to stop on the side of the road on the way back and let loraine run into the bush. We saw wild pig and a mongoose run across the road and a major road hazard is cattle as they are allowed to wander freely. We also saw them harvesting cane and transporting it via trucks and narrow gauge train. That evening we got to attend Lovo-meke (Dinner-Dance) The food was good and we enjoyed the singing and dancing.
Saturday November 9, Day 24: Fiji
Today we pack but since our plane does not leave until 10 PM we have All at the resort. Myself and Larry go for a walk along the beech. We have to go along the main road for a while. We see many cattle along the road and also some native teenagers just having fun. We talk to one young lady but she was shy and ran off. The native people are very happy and friendly. They don't have a lot of money but they don't need much to be happy. They live in single room huts nowadays made out of tin. We rest the rest of the day and we leave at 6 PM for the airport. Donna compliments us on being prompt on the whole trip, we all were 1/2 hour early leaving for the airport. It turns out that the next day is the festival of lights and many houses are decorated in lights just like Christmas. One advantage of living on Fiji is that there are 3 major religions (Christianity, Moslem, Hindu) so there are many holidays to enjoy. After arriving at the airport we go to group check-in. It is a small airport and there are a lot of people there and there is only 1 flight leaving. While in group check-in another group gets in behind us and they recognize us from our last flight and ask their tour guide if we were responsible for the pillow fight and were they on the same flight as us. They decided to split our seating arrangements I guess to discourage us. We board our 747 for the 11 Hour Flight to LAX.
Saturday November 9, Day 24: Again, Return to USA
We cross the international dateline about midnight and it is Saturday again. Frank runs up and down the Isle encouraging another pillow fight, this must have gotten our fellow passengers wondering where we came from. Most of us just want to nap. They show several movies. The sun comes up and a little later at 12:30 we arrive at LAX. I make it through immigration and customs OK and I have a 2:50 PM flight and I end up waiting 1.5 hours. The flight takes me to St. Louis and I have to wait there until 10 PM for my flight to MSP. There are only about 12 passengers and they pity me and upgrade me to first class. I make it in about Midnight, it has been a long day.

steven_t_engelhardt