Minnesota GI Joe Collectors Club
We have a new url and our own domain. So if you're at our old location on the web, take a jump to our new home and bookmark it.


The Minnesota GI Joe Collectors Club is a loose knit group of guys that share a love for a particular childhood toy, GI Joe. We get together every couple of months at a members house and show off, trade, sell and talk Joes. Well many other topics also come up, but mainly its just a chance to get together with friends sharing a common interest.
---
As an informal club, we get take turns holding meetings in our own homes. We try to get together every other month, but this can vary.
Next Meeting - We're planning on sometime in January. Given the holidays tend to break up the next few months, that will be our hoped for meeting month. We'll probably finalize the date, time and place in December. Keep an eye on your email for and update from Tony.
Last Meeting - Our last meeting was back at Hiedi's home. We had lots to talk about and a good turn out. Of course the big news is official now, the national GI Joe Convention is coming to Mineapolis Minnesota in 2005. Mark your calenders for the weekend before the 4th of July.
We also decided to put together our own T-shirts and hats. I was busy talking away with someone in the other room, so the details are not too clear to me. But I think everyone like all the art work that was brought so we're doing are best to use all the entries. We had three different logos presented, unfortunately I have just two of them in digital format. The third was and adventure team based logo. If someone has an electronic copy, could then send it so I can put it up here?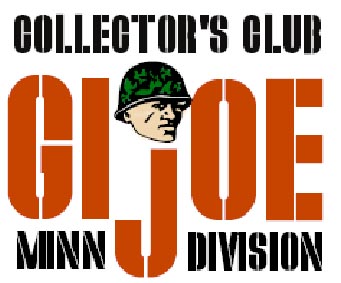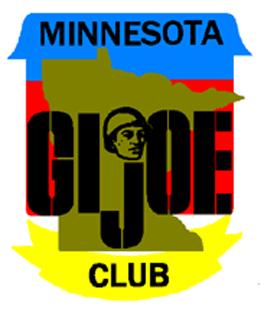 ---

Contact Information
Tony Stice - Commanding Officer of the Minnesota GI Joe Collectors Club
Cary Hostrawser - Secretary of the Minnesota GI Joe Collectors Club, which means I occasionally update this web page.


---

Our Members
Heidi Schreiber has an impressive and specializes in the Adventure Team era. Unfortunately when we had our last meeting most of her collection was still in storage. And that is a fantastic set up of dioramas. A recent move to a new home had not left her with the time to set them up yet. But I did manage to get some pictures of
Heidi's Toy Room
Now if I could just get her to add a story
Ace has everything. Having been collecting from very early on, Ace has managed to pick of jusy about every vintage Joe and Uniform set ever made. Just visting his toy room lets you know how far you can go to get a complete collection.
My First Joe by Cary Hostrawser
I remember when I received my one and only GI Joe as a kid. He was the coolest thing I had ever seen. No longer was I constricted to a tiny fixed position army man. This guy was big and he could move into any position I could imagine. In fact he could move in positions I couldn't even imagine. Boy that would really hurt!
Together me and Joe explored our world. Climbing mountains, jumping from trees, and fighting imaginary bad guys. I set up the danger and he took the fall. Oh, look at the way his head twisted around. I wonder if this is where they got the idea for Linda Blair in the Exorcist.
Eventually my Gi Joe became a Sky Diver. No he never had a jump suit or G-pants, just his olive drabs and a homemade parachute. But he was my fearless hero and into the sky he went. Eventually these short jumps, obtained by throwing him into the air as hard as my small arms could manage, was not enough. But the garage offered a significant increase in height. I learned how to climb onto the fence and get on the garage roof. It was in one of these jumps that my 12 inch hero earned his purple heart. Broken and battered beyond the call of duty, he was laid to his final rest. But never was he forgotten.

A few pictures from Cary's collection
Cary's Page 1
PT Commander, Sea Wolf and a Deep Sea Diver
West Point Cadet
Ski Patrol
Cary's Page 2
Line up of 7 military Joes
Patton on his Harley
Army Joe in OD
Cary's Page 3
Fighter Pilot - late rendition
Close up of same
Cary's Toppers Fighting Tigers Page
A little brother to GI Joe. Made by the Deluxe Reading Company and sold under the marketing name Topper Toys.


---
Joe World - The ultimate site for web links about GI Joe. If you haven't found it yet, you must stop by. - A little brother to GI Joe. Made by the Deluxe Reading Company and sold under the marketing name Topper Toys.

---
Manufactures
Hasbro Main Page - The maker of GI Joe or jump direct to their GI Joe Page .
21st Century - Manufacturer of 1/6 scale accessories, vehicles and figures.
Cotswold - The maker and supplier of 1/6 scale accessories and figures.
Dragon Action Figures - The maker 1/6 scale action figures.